UW-RF Home > University Communications Home > This Month's News Releases
University Communications
For more information contact mark.a.kinders@uwrf.edu or brenda.k.bredahl@uwrf.edu.
Students Receive Chancellor's Award
By Jenna Campbell
UW-RF University Communications
APRIL 21, 2006-- Seven students received the 2006 Chancellor's Award for Excellence at the University of Wisconsin and were honored at a ceremony April 17.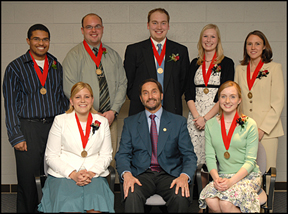 The Chancellor's Award is the highest non-academic honor that a student can receive at UW-River Falls. The award is given to students who hold distinguished leadership skills and have served UW-River Falls during the course of their academic careers. This year's recipients (back row, from left) include O'Neal Hampton, Nicholas Cluppert, Kristofer Kulsrud, Jessica Kopp, Stephanie Jicinsky, (front row, from left) Carolyn Schenk, Chancellor Don Betz and Megan Learman.

"The 2006 UW-River Falls Chancellor's Award winners represent some of the finest collegiate talent in the region," said Chancellor Don Betz. "Each of the recipients will be graduating secure in the knowledge that they have made valued and lasting contributions to the institution. Collectively, they are bright, committed, accomplished, persistent, collaborative and multi-talented."

The recipients of this award are typically juniors or seniors who are nominated by a faculty or academic staff member or student peers through the Student Senate. A committee that reports directly to the chancellor considers each nominee. After select interviews, the committee provides their recommendations to the chancellor, who makes the final decisions.

•Nicholas Cluppert, a senior from Markesan, Wis., who is majoring in political science, was nominated by Professor Tracey Gladstone-Sovell, who is chair of political science department. Cluppert is the 2005-06 Student Association Student Senate president. In that role Cluppert hosted a radio program in the fall 2005 called "Prez Sayz."

Cluppert has also held other positions on campus including resident assistant, a senator in the student association, and chair of the student affairs and academic services committee.

Off-campus Cluppert has had an internship with the United Council of State Representative Joan Ballweg as well as worked in numerous philanthropic efforts to benefit organizations such as the American Red Cross, Gillette Children's Hospital and the American Cancer Society.

Tracey Gladstone-Sovell compliments Cluppert on his dedication. "During my 20 years at the University, I have sat on any number of committees with student representatives. I cannot remember a single student on any of those committees who has been more diligent and committed to the work of the committee than Nick," say Gladstone-Sovell.

•O'Neal Hampton, a senior from Richfield, Minn., who is majoring in psychology, was nominated by Njia Lawrence-Porter, the McNair Scholars coordinator at the university. Hampton is a McNair Scholar whose research, "Participant Sex and Type of Harassment as Predictors of Coping Responses to Sexual Harassment Encounters," has been presented at regional and national conferences.

Hampton has also been an active player on the Falcon Football Team. Hampton has been selected to serve on a committee charged with exploring ways in which more African-American athletes can be attracted to join the football program. He serves as a volunteer coach for the university's summer football camp and has also worked with the Kansas City Chiefs training camp for the past three summers.

In addition, Hampton has assisted his fellow athletes by serving as an academic outreach advisor and study symposium facilitator.

In the nomination form Lawrence-Porter noted that Hampton's character is exemplary. "O'Neal's solid character is evidenced by four major qualities: consistency, dependability, excellence and humility. By all accounts, O'Neal demonstrates a maturity and stability beyond his years. I have been in awe of O'Neal's stamina and poise in balancing a high level of responsibility and accountability in multiple areas."

•Justin Hauer, an academic advisor at UW-River Falls, nominated Stephanie Jicinsky, a senior from Baraboo, Wis., who is majoring in animal science/pre-vet. Since, 2004 Jicinsky has served as an outreach advisor in Prucha Hall, answering academic and student-life related questions for residents.

Jicinsky's leadership roles include: co-captain of the Women's Cross Country team, an officer in the Pre-Veterinary Club and working in the Admissions Office as a tour guide.

Jicinsky also tries to build connections between dairy producers, students, Hispanic employees and family in Latin America through the Puentes/Bridges Advisory Group. Jicinsky has also held an internship with the USDA Dairy Forage Research Center and has competed in horse shows as a member of the Intercollegiate Horse Show Association.

Justin Hauer wrote in a nomination form that above all of Jicinsky's accomplishments is her greatest asset is her passion towards others. "Stephanie's greatest asset is her genuine compassion for the well-being of others. She inspires and ascribes worth to all the students she comes into contact with by giving them 100% of her attention and making them feel like they are the most important student at the university."

•Kristofer Kulsrud, a senior from Apple Valley, Minn., who is majoring in music education, was nominated by David Milne, a professor of music. For the past four years, Kulsrud has been very involved in the campus music scene having performed in the Symphony Band, Concert Choir, Jazz Ensemble I, Chamber Singers, Men's' Chorus, University Chorus and Brass Ensemble.

Kulsrud has also held leadership positions in various organizations such as: the Performing Arts Committee, Collegiate Music Educators National Conference, Leadership Programming and Development Board and Commissioned Composer.

In addition, to on-campus involvement, Kulsrud is actively involved in the music community of the Twin Cities metropolitan area. In Minnesota, Kulsrud has performed with Minnesota Orchestra, the Minnesota Valley Men's Chorale, the Minneapolis Trombone Choir, the Bloomington Civic Theater, Eagan Summer Theater and Brooklyn Center Summer Stock Theatre.

Kulsrud also led the River Falls High School Jazz Ensemble III and has been the recipient of the Gaader Award, the Wisconsin Music Educator award for college music education students.

•Jessica Kopp, a senior from Forest Lake, Minn., who is majoring in psychology, was nominated by Travis Tubre, an assistant professor of psychology. Kopp has served numerous departments at UW-RF including recreation, the admissions office, the writing center and residence life where she served as both a resident assistant and vice president of the Crabtree Hall Council.

Kopp has also held many leadership roles on campus. She is the current tenure co-president of Psi Chi and is a member of the College of Arts and Sciences Dean's Advisory Committee.

Off-campus Kopp has spent time interning with the Wisconsin English Journal and was a participant of the J-Term trip to rebuild communities impacted by Hurricane Katrina.

In nominating Kopp, Tubre states her greatest strength is her interpersonal skills. "On a personal level, I would like to note that getting to know Jessica has been among the most rewarding experiences of my academic career. She is bright, compassionate, humorous and optimistic. Students like Jessica are rare, but their presence makes it clear why this career is so rewarding."

•Megan Learman, a senior from Minocqua, Wis., who is majoring in speech communications, was nominated by Brent Greene, director of International Education Programs.

Learman has been involved in many on-campus activities including, an aid to the Chancellor and intern/peer advisor in the Office of International Programs and has held many positions through residential life.

Learman has an immense amount of international exposure, including travel to Scotland through the Wisconsin in Scotland program. Currently, Learman serves as the program coordinator of the Wisconsin in Scotland Ambassador Program. Learman is also a participant of the international mission on diplomacy to Eastern and Central Europe and has worked with 4-H Exchange to Japan.

In addition, Learman has served as a member of the International Listening Association.
Greene has very high goals for Learman's future, "One day she may direct and International Studies Program, be a college professor or perhaps even a college president," says Greene.

•Carolyn Schenk, a senior majoring in psychology is from Chanhassen, Minn., was nominated by Brent Turner, the leadership training coordinator at UW-River Falls.

Schenk has been involved with the Hurricane Katrina Relief efforts, participating in the J-Term Destination Gulf Coast relief trip and was also the director of the Adopt-a-Student program. In this program UW-RF faculty, staff and students adopted 48 students from the University of Southern Mississippi and who had been affected by the hurricane.

Schenk also holds leadership positions on campus, including residence hall manager and chair of the Leadership Development and Programming Board.

Turner said in his nomination of Shenk that her greatest strength is within the relationships she builds with others. "Carolyn's greatest strength is her presence on campus and ability to relate to both students and faculty. She carefully considers essential facts and stakeholders when making important decisions, and uses compassion and empathy to relate to others."

Said Chancellor Betz, "Each of this 'magnificent seven' has unique perspective, accomplishments and aspirations. They represent a much larger group of their peers here at UW-River Falls who are also committed to excellence and service, to scholarship and leadership. They truly have earned this honor and we join with their families and friends in celebrating their work."
-30-
Last updated: Thursday, 22-Apr-2010 16:07:20 Central Daylight Time