UW-RF Home > University Communications Home > This Month's News Releases
University Communications
For more information contact mark.a.kinders@uwrf.edu or brenda.k.bredahl@uwrf.edu.
Alice in Dairyland Visits Campus
By Jenna Wegner
UW-RF University Communications
APRIL 14, 2006--Wisconsin's 58th Alice in Dairyland, Gena Cooper, of Mukwonago, visited the UW-River Falls campus April 12 -13 to share her story of being Wisconsin's official agricultural ambassador.

Cooper spent her time talking about the importance of Alice in Dairyland in Wisconsin and the impact agriculture has on the economy. She also discussed the process of becoming Alice and her activities during her year-long reign.

On Thursday, Cooper attended Tamia Trulson's agriculture newswriting classes and discussed public relations methods and working with the media.

Alice in Dairyland promotes state food and fiber products and businesses and appears at about 400 events, 100 school visits and hundreds of interviews resulting in media coverage for Wisconsin agriculture. She will serve in the one-year agricultural marketing position as a staff member with the Wisconsin Department of Agriculture, Trade and Consumer Protection.

Cooper is a 2005 biochemistry graduate of the University of Wisconsin – Madison. Raised on a Wisconsin mink, corn, soybean and Clydesdale horse farm, Cooper was selected from among six finalists after three days of intense interviews, public presentations, speeches and media interviews.

For more information on Alice in Dairyland, visit her Web site at http://www.datcp.state.wi.us/core/marketingagriculture/marketingagriculture.jsp. She also keeps a daily journal+ at www.wisconsinagconnection.com.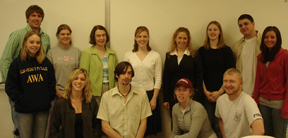 Left: Wisconsin's Alice in Dairyland Gena Cooper (center) with the students of Tamia Trulson's ag newswriting course at the University of Wisconsin-River Falls.
-30-
Last updated: Thursday, 22-Apr-2010 16:07:17 Central Daylight Time