UW-RF Home > University Communications Home > This Month's News Releases
University Communications
For more information contact mark.a.kinders@uwrf.edu or brenda.k.bredahl@uwrf.edu.
Mock Accident Warns of Drunk-Driving Dangers
APRIL 7, 2006--River Falls fire fighters, police and EMS arrive on the scene of a mock accident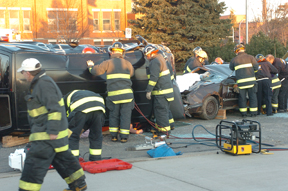 at UW-River Falls and prepare to extricate the victims from both vehicles.
'Crash on Cascade,' a mock car crash showcasing the often lethal combination of alcohol and driving, was organized by the UW-River Falls Greek community, CASCADE, a peer education group, Jerry's Towing, and River Falls' police, EMS and fire fighters as part of the annual Greek Week at UW-RF.
The car, right, was said to contain university students who had all been drinking. The van, left, was purported to hold a group of sober high school students returning home.
More than 100 students, staff and community members watched silently as fire fighters begin to saw through the windshield of the van to reach the trapped passengers. Below, UW-River Falls student Amanda Krier is pulled from the overturned van by fire fighters and EMS.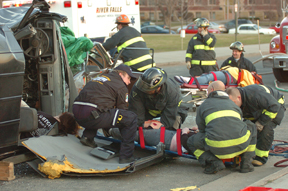 Secretary of CASCADE and president of Theta Chi Fraternity Ryan Stovern says, "It gave them more of a realistic sense of what EMS and fire fighters have to go through in a situation like this. I also think it will make students think twice before drinking and driving."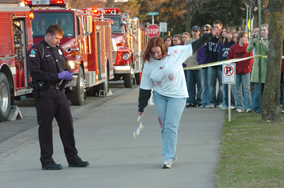 -30-
Last updated: Thursday, 22-Apr-2010 16:07:17 Central Daylight Time