UW-RF Home > University Communications Home > This Month's News Releases
University Communications
For more information contact mark.a.kinders@uwrf.edu or brenda.k.bredahl@uwrf.edu.
Greek Week Promotes Both Fun and Safety
APRIL 7, 2006--Greeks Remember the 1980s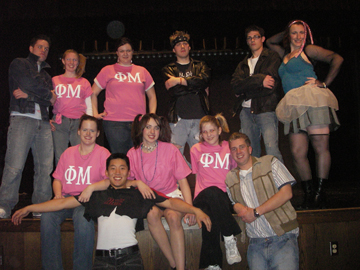 Members of Theta Chi Fraternity pose with women from Phi Mu Fraternity at the "I Love the 80s" themed lip-sync event of this year's Greek Week at the University of Wisconsin-River Falls. Theta Chi performed to the New Kids On the Block hit "The Right Stuff," while Phi Mu moved to Cyndi Lauper's "Girls Just Want to Have Fun."

Top, L to R: Patrick Kenney, Stephanie Gilbertson, Lisa Stratton, Cory Lanoux, James Pennings, Desiree Jeanette. Middle L to R: Erin Foulkes, Penny Reinhold, Amanda Ogren. Bottom, L to R: Kurt Blomberg, Jonathon Hill.

The 2006 Greek Week also featured events such as a mock drunk-driving accident, the Greek God and Goddess competition, the Greek Games, a hot dog sale benefiting the Big Brothers Big Sisters organization, a 'Canned Castles' competition, and a clothing drive.

-30-
Last updated: Thursday, 22-Apr-2010 16:07:16 Central Daylight Time