UW-RF Home > University Communications Home > This Month's News Releases
University Communications
For more information contact mark.a.kinders@uwrf.edu or brenda.k.bredahl@uwrf.edu.
Area Students Become Global Kids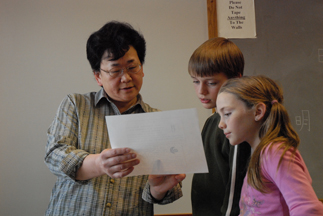 MARCH 24, 2006--Several area elementary children have completed a 16-week study of foreign language and culture at UW- River Falls. Through the use of games, songs and other hands-on activities, children from River Falls, Ellsworth, Prescott and Hudson spent eight weeks in fall and eight weeks this winter learning German, Chinese and Spanish as part of the UW-RF Global Kids Program.

Global Kids classes were held for 45 minutes after school one day a week and were generally divided by grade levels K-2 and 3-5. German had an enrollment of 11 students grades K-5, Spanish had an enrollment of 16 students in grades K-5 and Chinese had an enrollment of six students in grades K-5.

Each class was taught somewhat differently, but the reactions from the children and their parents have been very positive and many have asked if the program will continue next year.

Children from Global Kids were eligible to participate as the students for a student teaching experience that UWRF Modern Language students will be conducting for the next five weeks.

For more information contact the UW-RF outreach office at 1-800-228-5607 or 715-425-3256 or e-mail outreach@uwrf.edu.

Photo above (L to R): UW-River Falls Global Language Chinese instructor Lan Yu with students Jens Myklebust and Reilly Myklebust, children of Per and Alice Reilly-Myklebust of River Falls.
-30-
Last updated: Thursday, 22-Apr-2010 16:07:12 Central Daylight Time