UW-RF Home > University Communications Home > This Month's News Releases
University Communications
For more information contact mark.a.kinders@uwrf.edu or brenda.k.bredahl@uwrf.edu.
Student Receives UW System Woman of Color Award
By Jenna Campbell
UW-RF University Communications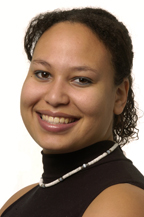 MARCH 24, 2006--University of Wisconsin-River Falls student Somorae Smith, a senior from St. Paul, Minn., who is majoring in political science, was presented with the UW System Woman of Color Award for her dedication to her community and campus involvment.

The UW System Women's Studies Consortium, the Office of Diversity and Development and the UW-Eau Claire Women's Studies Program presented this award to 16 women within the UW System in March at UW-Eau Claire. Each UW System campus selects one woman to receive recognition for their extensive contributions to their campuses and/or communities. This year marked the 11th anniversary of the UW System's Women of Color Awards.

"I was really surprised to be nominated," says Smith. "Winning the same award as Linda Alverez and Carolyn Brady [UW-RF academic staff] was very surprising for me."

Smith was born in Phoenix, Ariz., but grew up in St. Paul with her father, who is originally from Chicago and her mother, who was from River Falls. Smith also has three siblings. While growing up, Smith watched her father coach various teams and has pride in his dedication and his ability to make a difference in others lives. "He has impacted many lives, and I have envied that," says Smith.

One of Smith's greatest accomplishments has been working with her hometown community. Four years ago, Smith initiated and developed an age 18 and under softball team, called the Hazel Park Tigers. The team is located in East St. Paul. Participants are women who are enrolled in a high school program or in an alternative learning program. The players are required to attend every practice and all games. As a coach, Smith helps some of the players earn physical education credits to go toward their education. "My experience has been very positive and I've been able to see girls grow up through this program. It's very rewarding to see the girls graduate from high school," says Smith.

Smith has also been very involved on the UW-RF campus. She is currently employed at UW-RF Career Services, is a member of the sorority Alpha Sigma Alpha, and is a Ronald E. McNair Scholar. Smith also volunteers 50 hours each semester for Relay for Life and Special Olympics. At her campus job, Smith says enjoys meeting a lot of new people, which has helped with her communication and public speaking skills. Smith has taken on extra responsibilities while working at Career Services from training new employees and graduate interns to making classroom presentations for more than 100 students.

She has made a very positive impression on the people that she works with. "She has done a great job helping students/alumni members with their career-related questions, mentoring new peer advisors, and assisting the office with outreach events and activities," says Sheri Stover, a career counselor at UWRF.

The sorority ASA is devoted to the development of "women of poise and purpose." Smith has held many positions including, social chair, formal committee and recruitment counselor.
Being a McNair Scholar has helped Smith to achieve her academic goals, she says. The McNair program supports promising, academically talented students from populations that have been historically underrepresented in graduate study including low-income, first-generation and minority college students. The program seeks to increase students' confidence and support undergraduate research to better prepare the scholars for graduate study. Smith is currently researching African-American political activism and church attendance.

Smith said that Linda Alverez, the multicultural services coordinator at UW-RF and previous recipient of the award, is one of her mentors. Smith says that Alverez has supported her since she arrived on campus.

"Somorae really typifies a student who has been able to establish personal goals and has real heart," says Alvarez. "She has a lot of energy in bringing folks along with her. She has such an unselfishness about her-really a generosity of spirit."

During high school Smith was involved with student council and was the captain of her swimming team and her cheerleading squad. "The best advice that I can give future leaders is to be confident," says Smith. "If you have a goal, go for it. Just because you're a girl does not mean you're not strong. Really strive to get experience in diversity."

UW-RF Chancellor Don Betz is pleased to have Smith represent the university. "We are delighted that Somorae was selected to receive the Woman of Color award," said Betz. "We are proud of her accomplishments and her commitment to serving others. Her success will encourage others to be diligent in achieving their goals. Bravo, Somorae!"
-30-
Last updated: Thursday, 22-Apr-2010 16:07:11 Central Daylight Time