UW-RF Home > University Communications Home > This Month's News Releases
University Communications
For more information contact mark.a.kinders@uwrf.edu or brenda.k.bredahl@uwrf.edu.
Student Conducts Research at the South Pole
MARCH 10, 2006--Jonathon Eisch, a senior majoring in physics from Wisconsin Rapids, was part of a group of engineers, students and scientists who were building the biggest high-energy neutrino detector in the South Pole AMANDA profject. They installed 480 new deep-ice and 48 new surface Digital Optical Modules (DOMS) recently to double the size of AMANDA, a neutrino detector. Eisch has also recently spent time working on a cosmic ray detector, traveled to Sweden with UW-RF physics professor Jim Madsen to share results and make plans for a telescope for Antarctica, and spent Christmas 2003 at the South Pole as well.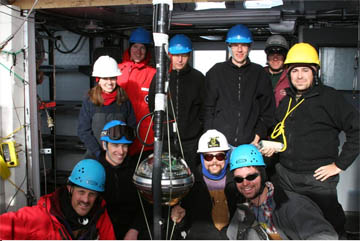 Back Row L-R: Kara Hoffman, University of Maryland; Andreas Tepe, University of Wuppertal; Holger Leich, DESY Zeuthen; Patrick Berghaus, Universite Libre de Bruxelles; Dar Gibson, IceCube; Andres Morey, University of California – Berkeley. Front Row, L-R: Gary Hill, Unversity of Wisconsin – Madison; Bernhard Voigt, DESY-Zeuthen; Ethan Dics, IceCube; Jonathon Eisch, UW-RF.
-30-
Last updated: Thursday, 22-Apr-2010 16:07:10 Central Daylight Time