UW-RF Home > University Communications Home > This Month's News Releases
University Communications
For more information contact mark.a.kinders@uwrf.edu or brenda.k.bredahl@uwrf.edu.
Bowen Named Athletic Director; Retires as Men's Basketball Coach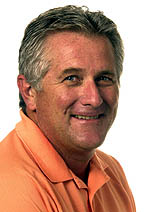 MARCH 10, 2006--University of Wisconsin-River Falls Chancellor Don Betz has named Rick Bowen as full-time athletic director for the university.
Bowen will retire as head men's basketball coach, a position he has held for the past 20 years, to devote full-time efforts to the athletic director position, which he has held since 2004.
Assistant men's basketball coach Jeff Berkhof has been named interim head coach by Betz. He has been Bowen's No. 1 assistant coach for the past nine seasons.
The changes take effect on April 1, 2006.
"The University has given me the opportunity to be the full-time athletic director at UW-River Falls," said Bowen. "After 37 years of coaching basketball, the past three in the dual role of basketball coach and athletic director, the time has come for me to make a decision. The workloads of both positions demand a full-time person. I am proud to be the full-time athletic director, and I am also pleased that Jeff Berkhof will be replacing me as interim basketball coach."
Bowen led the 2004 basketball team to the WIAC championship. It was the first championship won at UW-RF since the 1950 season. The Falcons, 20-7 overall, hit the 20-win mark for the first time since that championship 1950 season. He was named the WIAC basketball Coach of the Year, and his peers also selected him as the National Association of Basketball Coaches West Region Coach of the Year.
2004 was a banner year for the Falcons. The NABC named Rich Melzer as the Div. III National Player of the Year and a first team All-American for the second consecutive year. Melzer is now playing professionally for a team in New Zealand in the Australian professional league.
Bowen compiled a 265-249 (.515) career record at UW-RF. He is seventh all-time in victories in the WIAC.
Bowen came to UW-RF in 1986 following five years as a Wisconsin Badger assistant coach where he served with current Badger Coach Bo Ryan. He previously was an assistant coach at Ball State University, working under Coach Steve Yoder at both institutions.
Bowen graduated from Indiana University with an undergraduate degree in physical education in 1966. He served the Hoosiers as a student-manager under two-time National Champion Coach Branch McCracken.
Basketball runs deep in the Bowen family. Like his father, son Matthew was a basketball manager at Indiana University under Coach Bob Knight. Grandfather Vernie Bowen was an Indiana High School coach for 40 years. Nephew Christopher is currently the basketball manager at the United States Military Academy under Coach Jim Crews. Nephew Andrew is currently the basketball manager at Bethel College in Mishawaka, Ind.
Bowen began his career in Indiana teaching government and coaching basketball. He earned a master's degree from the University of St. Francis, Fort Wayne, Ind., in 1971. He served in the U.S. Army as a combat medic from 1967 to 1969 with service in Vietnam from December 1967 to December 1968. For his actions in Vietnam he was awarded a Bronze Star.
"The basketball program has been my life and my passion over the past 20 years," said Bowen. "That passion and love remain. It is just time. Being the basketball coach at UW-River Falls has been the privilege of my life. I leave the program with a profound sense of gratitude and thanks for a University and a community that has allowed me to do what I love and supported me so well."
-30-
Last updated: Thursday, 22-Apr-2010 16:07:10 Central Daylight Time