UW-RF Home > University Communications Home > This Month's News Releases
University Communications
For more information contact mark.a.kinders@uwrf.edu or brenda.k.bredahl@uwrf.edu.
Second Memoir Published by UW-RF Faculty Member
By Justine Benzen
UW-RF University Communications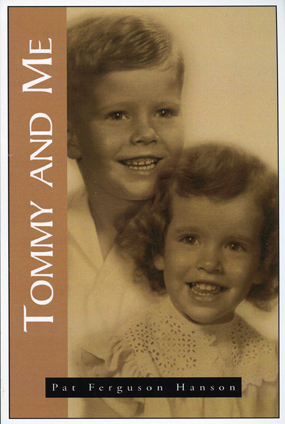 MARCH 3, 2006--University of Wisconsin-River Falls speech instructor and freelance writer Pat Ferguson Hanson's second book, "Tommy and Me," is a touching memoir of her memories with her older brother Tom, who passed away eight years ago.
Hanson, of Stillwater, Minn., grew up with four siblings - two younger and two older. Out of the five kids, Hanson and Tom were the closest.
They did everything together; they went to the same college, double-dated, and started their careers together. They were best friends.
When Tom died suddenly of a heart attack, Hanson processed her grief by capturing and writing about the best of their times growing up together.
"Tom was larger than life, handsome, smart, funny, charming and generous to a fault - he holds a very special place in my life," says Hanson.
In 2003, Hanson published her first book, "The Five Goodbyes, Mothering My Child with Down Syndrome," a memoir of her family's experience of raising their daughter, Molly, who has Down syndrome. Hanson also has two other children, Tina and Maya.
While memoir writing has faced criticism in the wake of an Oprah Winfrey book club selection that contained fictional accounts, Hanson says that memoir writing is still an important genre. "It is very important for people to record memories of loved ones," says Hanson. "It is the only way the next generation will know them."
Patricia Condon Johnston, publisher of the Afton Historical Society Press, wrote that Hanson's book, "is a wonderful tribute to your brother ... I have never lost a sibling, but I did lose a daughter several years ago ... so I know what you mean about 'unspeakable grief.'"
Other writers had praise for "Tommy and Me." "I don't know Tom, but I do now. Your memories ... are sweet and poignant," said journalist Peggy Hale.
Besides teaching, Hanson provided consulting services to corporate and nonprofit clients, including Target, Andersen Corporation, Blue Cross/Blue Shield of Minnesota, St. Paul Area Chamber of Commerce, Metropolitan Council, Education Minnesota, Stillwater Medical Group and the River Valley Arts Council. She has also been a columnist and freelance journalist in local newspapers and national magazines.
"Tommy and Me" and "The Five Goodbyes, Mothering My Child with Down Syndrome" are available at the UW-RF Chalmer Davee Library and the Stillwater Public Library.
Published by Xlibris, the book can be ordered from 1-888-795-4274 x876, http://www.xlibris.com/bookstore , www.amazon.com , www.borders.com , or www.barnesandnoble.com .
-30-
Last updated: Thursday, 22-Apr-2010 16:07:08 Central Daylight Time