UW-RF Home > University Communications Home > This Month's News Releases
University Communications
For more information contact mark.a.kinders@uwrf.edu or brenda.k.bredahl@uwrf.edu.
UW-RF Basketball Alumni Play in Reunion Games
By Malisa Hyland
UW-RF University Communications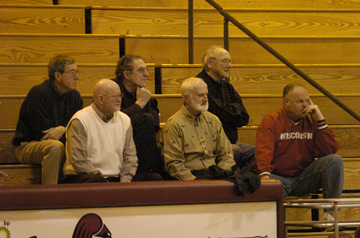 FEB. 24, 2006--In a game filled with spin moves, slick passes and even a slam- dunk, the University of Wisconsin-River Falls men's basketball alumni game in February was close and competitive.
About 25 former players, ranging from age 19 to 50, participated in the game while their families watched and rooted for either the gray or white team.
From the bleachers, former Falcons Dick "Zeke" Wells, John Steffen, Jerry Carter, Dave Herum and Phil Kuss, who all played in the 1950s, made commentary on the game, cracked jokes and reminisced about the days when they played basketball together.
Wells joked around about not being out on the court this year. "I told the younger guys they better pick up the slack since I won't be out there playing today," he said with a laugh.
Don Page, former basketball coach, baseball coach and athletic director at UW-RF, kept score of the close game that ended with an exciting last minute in which the gray team pulled ahead to win 79-80.
Although the two teams were competitive, the atmosphere in the gym was light and fun. Players from the opposing teams joked, laughed and jostled one another on the court and after the game, chatted with their old teammates and friends.
The gym was filled with the wives, girlfriends and children of the former Falcons; several of those family members were born since the last alumni game. Some children came out to play a little ball during half time, and like father, like son, one toddler even tried to get in on the real game.
The reception following the game was filled with talk of basketball and how it is played now compared to how it was in the 1950s. Phil Kuss and Dave Herum, who both played from 1953 to 1957, remembered when the basketball court was in the basement of North Hall.
"You had to be careful when shooting from the corner because if the arch was too high, it went into the balcony that was above the court," Herum said.
Because the North Hall gym was so small, other teams didn't know how to shoot from the corners. "It was a real advantage for us to play teams that were better than us in our small gym," Kuss added.
Herum, who didn't go out for basketball until he was a junior in high school, had a very successful basketball career at UW-RF. "At the time I graduated, I was the 3rd leading scorer for the school behind Roger Kuss and Nate Delong, but since the three-pointers came along, I've slipped way down on the list," Herum said. "I also led the state colleges in scoring for two years in a row," he added.
Herum, who retired in 1993 from the Stillwater School District, still does all of the timing for the district's basketball, football and wrestling matches.
Kuss worked for Unisys for 29 years before retiring. He now has a grandson attending UW-RF.
Both Kuss and Herum still live in River Falls. "We don't live on the same side of town though because we wouldn't get along," Kuss joked.
After lunch was served, Director of Development and Alumni Relations and former Falcon basketball player Dan McGinty greeted the alumni and their families.
Current men's basketball coach Rick Bowen followed McGinty and recapped the current basketball season. Bowen also talked about improvements he'd like to see in UW-RF's sports facilities. "We've got to roll up our sleeves and get the facilities at the top in the UW System," Bowen said.
Chancellor Don Betz echoed Bowen's comments. "Out of the eight teams in the conference, our facilities rank 12th ," joked Betz, who noted he is committed to improving the athletic facilities at the university. "I appreciate the legacy of this institution in regards to athletics."
Many of the men attend the alumni game every year, including Jeff Berkhoff, a 1994 graduate of UW-RF and assistant coach for the men's basketball team, and Justin Steivang, a 1995 graduate of UW-RF, who said he doesn't get to see his teammates often because he lives in Arizona. "I come back to have a good time and to see everyone again. I get to see them here, if I see them at all, and once in a while talk on the phone with them," Steivang said.
Herum and Kuss have attended the game almost every year, although they don't play anymore. Whether the alumni are playing or not, the reunion offers a way to stay connected to UW-RF and the sport they once played and still love.
"I can't even remember [the last time I played]," Kuss said. "I think David played about eight years ago, but my wife wouldn't let me run up and down the court then, and now I don't even think I could run up and down the court."
Photo: L to R, back row: UW-RF Basketball alumni John Steffen, David Herum, Phil Kuss; front row: Dick "Zeke" Wells, Jerry Carter, Rusty Herrand.
-30-
Last updated: Thursday, 22-Apr-2010 16:07:06 Central Daylight Time