UW-RF Home > University Communications Home > This Month's News Releases
University Communications
For more information contact mark.a.kinders@uwrf.edu or brenda.k.bredahl@uwrf.edu.
Coombs Re-Elected to ACAD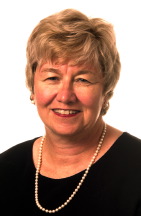 FEB. 24, 2006--University of Wisconsin-River Falls Provost and Vice Chancellor for Academic Affairs Virginia M. Coombs was re-elected as the chairperson of the board for the American Conference of Academic Deans in February.
Coombs has held various officer positions with ACAD since 1999. Coombs holds a Ph.D. and A.M. in German linguistics from the University of Illinois at Urbana-Champaign and an A.B. from Denison University. She also completed the Management Development Program at Harvard University in 1991.
Coombs, of Hudson, was hired as Provost at UW-RF in May 2001 and served briefly as interim chancellor following the accidental death of Chancellor Ann Lydecker in 2004.
"This is a very exciting time to be a part of ACAD," said Coombs. "Our membership has expanded to an all-time high and our annual meeting had a record number of attendees. Academic officers and administrators around the nation are coming to view ACCAD as an essential and valuable resource that provides them with a great network of support. I'm looking forward to working with our newest board members to advance the ideas of liberal education by supporting provosts, deans, and assistant/associate deans in their work."
In addition to providing leadership in the planning, organization and administration of the University's colleges, Coombs has been played a role in coordinating the development of a new general education program and assisting the faculty in the design of new student outcomes assessment programs. She has also developed retention strategies for full-time, first-year students as well as helped establish support for undergraduate student research.
Coombs has written many publications and scholarly articles and is a member of the American Association of Higher Education, American Association of University Women, Association of American Colleges and Universities, American Association of Teachers of German and the Society for Germanic Linguistics and other professional organizations.
For more than 60 years ACAD has served as the premiere resource for academic administrators across the nation and abroad.
-30-
Last updated: Thursday, 22-Apr-2010 16:07:06 Central Daylight Time