UW-RF Home > University Communications Home > This Month's News Releases
University Communications
For more information contact mark.a.kinders@uwrf.edu or brenda.k.bredahl@uwrf.edu.
Winter Carnival is a Success
By Jenna Campbell
UW-RF University Communications
FEB. 17, 2006-- "Frozen Commotion from the Depths of the Ocean" was the 2006 Winter Carnival theme at the University of Wisconsin-River Falls Feb. 6 - 11.
UW-RF students kicked off their frozen celebration with a campus-wide medallion hunt, "Frozen Treasure," which ran through the Feb. 9. The winner of the hunt won $25.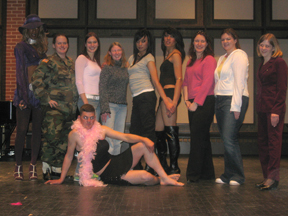 The week featured a variety of old and new events. Prucha Hall took first in the Ms. Tootsie Pageant. Drag queen performers from the Gay 90s Night Club in Minneapolis posed with members and friends from the Phi Mu Fraternity during the pageant, including, (L to R): performer, Erin Foulkes, Melissa Phelps, Stephanie Gilbertson, two performers, Desiree Jeanette, Lisa Stratton, and Amanda Ogren and in the front row, Dave Dittbrenner.
Human "dog" sledding, a new event to the carnival, was the most popular event this year, according to special events chair Marcus Bonde, a senior from Nerstrand, Minn, who is majoring in marketing communication with an agricultural emphasis. The winners of the "dog" sled competition were Alpha Gamma Rho for the race and McMillan Hall for a costume competition.
A returning winter carnival favorite , a lip sync competition, was hosted by Marcoux Corner, with the winners, Delta Theta Sigma, singing "Rubber Ducky."
Comedian Johnny Walker performed his "frozen" comedy act at Brandy's. The frozen T-shirt royalty competition consists of teams thawing out a frozen T-Shirt and then putting it on one of the teammates. May Hall took first place in this competition.
Other new events added this year including human bowling and an all-night party. First place winners of the bowling competition were Alpha Gamma Rho and Alpha Sigma Alpha. The all night Party ran from 9:30 p.m. until 5 a.m. at Hunt Arena on Feb. 10 and included food, games, prizes, bingo, volleyball tournament and free haircuts by Great Clips.
Wrapping up the festivities was the Royalty Coronation at the hockey game on Feb. 11. Crowned were royalty AGR and ASA members, Jody Endvic a senior from Boyd, Wis., who is majoring in agricultural education, and Lindsay Woycheck, a junior from Brooklyn Park, Minn. who is majoring in elementary education.
Alpha Gamma Rho took home two first place rankings in the organization competition and the royalty competition. Winning with AGR in the Royalty competition was ASA with a total point value of 727. The overall scores are points accumulated over all the week's activities.
Some other events that took place during the week were change wars, a pet food drive and banner contests.
Partying All Night
UW-RF students partied to the morning hours at the first annual All Night Party during Winter Carnival. Residence halls staff planned and worked the Feb. 10 event, which was free of charge to all UW-RF students.
The party was at the Robert P. Knowles Recreation and Physical Education and lasted until 5 a.m. Adjoining Hunt Arena was open for skating during the party.
The event proved to be a huge success with an estimated 500 students in attendance. Students stayed until 5 a.m. to help clean up the facility, according to organizers.
Some of the more popular events included free haircuts from Great Clips, box-and-bounce, sumo wrestling, an obstacle course, face-painting, and karaoke. Donated money and prizes were valued at more than $1,000 for the party. Local businesses that contributed included McDonalds, Taco Bell, Menards, Midwest Wireless and Perkins. Campus organizations also contributed to the party, including included Chartwells Dining Services, College of Business and Economics, College of Agriculture, Food and Environmental Sciences and the Follett University Bookstore.
"I believe what made this program such a success was the fact that many different organizations came together and worked as one for the night," says Tom Vierling, the chair of the All Night Party, who is a senior majoring in business administration from Stillwater, Minn.
-30-
Last updated: Thursday, 22-Apr-2010 16:07:05 Central Daylight Time