UW-RF Home > University Communications Home > This Month's News Releases
University Communications
For more information contact mark.a.kinders@uwrf.edu or brenda.k.bredahl@uwrf.edu.
Students Participate in America Reads Program
By Staci Bruder
UW-RF University Communications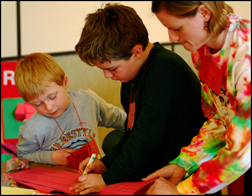 FEB. 17, 2006--Six University of Wisconsin-River Falls students participated in an event based on the book "The Box Car Children" as part of the America
First-year students, Christina Abegglen, Stetsonville, Wis., Joseph Dart, Sturgeon Bay, Wis., Alicia Hurkman, Andonver, Minn., Caitlin Lynch, New Hope, Minn., and Angela Stark, Knapp, Wis. along with sophomore Natalie Hanken from Ellsworth, Wis. make up the Falcon Fellows group, which is a group of students selected for their high GPA and ACT scores.
The Falcon Fellows complete 300 hours of community service throughout the academic year and will receive a $1,000 educational voucher from the Midwest Campus Compact Citizen-Scholar Fellow Program to use toward their tuition.
The students are also involved with the Student Support Services Program at UW-RF, a program that is designed for first generation or low-income students. " I am extremely impressed with the Falcon Fellow's commitment and passion toward the program," said Amy Lloyd of the UW-RF Academic Success Center. " They have taught me that first-year students have the capacity to both, serve as change agents in their college community and at the same time do well academically."
The majority of the groups service hours have been spent tutoring students in the River Falls school district through the America Reads Program. In addition, the group has also partnered with the River Falls Public Library for the spring semester.
The first event, "The Box Car Children," drew approximately 30 children from the surrounding River Falls elementary schools. The Falcon Fellows planned various activities including a book discussion, a "Free-For-All" relay race, bingo, art projects and making food donations to the local food pantry.
-30-
Last updated: Thursday, 22-Apr-2010 16:07:05 Central Daylight Time