UW-RF Home > University Communications Home > This Month's News Releases
University Communications
For more information contact mark.a.kinders@uwrf.edu or brenda.k.bredahl@uwrf.edu.
Nylander Receives CSU Outstanding Alumni Award
By Malisa Hyland
UW-RF University Communications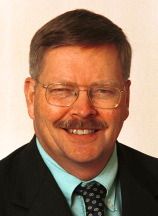 FEB 17, 2006--Retired University of Wisconsin-River Falls Interim Chancellor Virgil Nylander is the recipient of Colorado State University's 2006 College of Natural Sciences Honors award.
One alumnus from each college at CSU is awarded the Outstanding Alumni award each year. The award is given to a alumnus who has brought honor to CSU and him/herself through a distinguished career and service to the University, state, nation or world.
Nylander, who returned from his retirement as vice chancellor of administration and finance to become interim chancellor at UW-RF in June 2004, received his award at the Distinguished Alumni Awards dinner on Feb. 17 in Fort Collins, Colo.
Nylander joined the UW-RF faculty in the psychology department in 1969 after completing his bachelor's and master's degrees in psychology at Colorado State University. He earned his doctorate in experimental physiological psychology from Iowa State University.
Nylander served as department chair and associate dean of the College of Education until he became the assistant chancellor for administration in 1987 and then later vice chancellor for administration and finance.
Nylander has been very active in various community service projects including the St. Croix Economic Development Corporation, Kinnickinnic River Land Trust, River Falls Area Hospital Fundraising Committee, City of River Falls Board of Appeals and River Falls Rotary Club. He was also part of U.S. Representative Steve Gunderson's Western Wisconsin 2000 Committee.
Many members of the university and River Falls communities submitted letters of support for Nylander's nomination for the CSU Outstanding Alumni Award.
Among them were Mary Halada, current UW-RF vice chancellor of administration and finance, who worked alongside Nylander as the university's budget officer for more than a decade.
In her letter of support she wrote, "He is an extremely knowledgeable, intelligent, fair, forward-thinking and well-rounded individual. He has varied talents, interests and experiences. ... Virgil was and continues to be a mentor to many of us [at the university]. ... His willingness to share information and responsibility as well as his encouragement has been instrumental to my success. His approach to problem-solving is very consistent and predictable, and he consistently takes the high road and the most ethical approach. The students and their well-being are primary in his decision-making. ... Within the community of River Falls, Virgil is also well known and has established a reputation for being willing to participate in ... charitable, civic and community events.
Others who submitted letters of support for Nylander's nomination included Sen. Sheila Harsdorf, UW-System President Kevin Reilly, First National Bank of River Falls and Prescott President Thomas Palmer, UW-RF Executive Director of Enrollment Services Alan Tuchtenhagen, UW-RF horticulture Professor Terry Ferriss and two former students, Margaret Coulson and Dr. Marie-Christine Leisz.
-30-
Last updated: Thursday, 22-Apr-2010 16:07:04 Central Daylight Time