UW-RF Home > University Communications Home > This Month's News Releases
University Communications
For more information contact mark.a.kinders@uwrf.edu or brenda.k.bredahl@uwrf.edu.
Dance Theatre Takes Trip to Hawai'i
By Lisa Stratton
UW-RF University Communications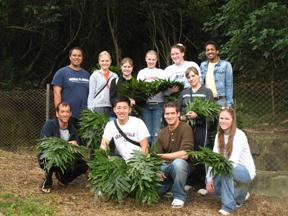 FEB 10, 2006--While most Midwesterners were shivering by the fire in January, eight University of Wisconsin-River Falls students danced the night away for five days in an educational visit to O'ahu, Hawai'i.
The students are members of UW-RF's Dance Theatre, a popular modern dance group. Accompanied by their advisor and UW-RF faculty member Karla Zhe and two instructors, Todd Bierbrauer and William Grier, the eight students attended the school of Hula 'O Napunaheleonapu. In a program conducted by a internationally renowned hula dancer, the students took classes in technique, sacred chanting, language, history and cultural traditions, and also learned both traditional and modern hula dances.
Kurt Blomberg, a junior from Mounds View, Minn., describes the experience as amazing.
"We visited some very sacred Hawai'ian landmarks, things we wouldn't have had access to if we were normal tourists," says Blomberg.
One such landmark is a blow-hole on the island of O'ahu. Blomberg and the rest of the students learned sacred chants and stood on cliffs on either side of the water, watching as the waves seemingly rose and fell with their cries.
Blomberg also describes experiencing many traditional parts of Hawai'ian culture. Dance Theatre members learned to make leis, sampled Hawai'ian cuisine, and enjoyed several beautiful beaches.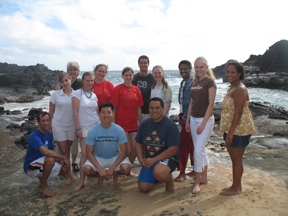 "Everything has meaning. You can definitely tell that there is something very powerful about their culture," says Blomberg. "It was a once-in-a-lifetime opportunity."
The program instructor, Kumu Rich Pedrina, is an award-winning hula dancer and teacher who has performed internationally with Hawai'i's finest dancers. Hula, an art form combining dance with chant or song that tells a story, was created by the Polynesians who originally settled the Hawai'ian islands.
"It was definitely difficult at first. Every movement has meaning - you have to have a kind of finesse for it," says Blomberg.
While the students were unable to perform their newly learned hulas in Hawai'i, they will get the chance at their annual spring concert, held this year at its annual spring concert from March 28 to April 1.
For more information on the UW-RF Dance Theatre, please contact Professor Karla Zhe at karla.k.zhe@uwrf.edu or at 715-425-3131.
Students who participated in the Hawai'i trip include:
Wisconsin
Beldenville, Crystal Fernandez-Close, senior, elementary education
Ellsworth, Brooke Gusa, freshman, pre-major
Hudson, Ryan Skoog, freshman, pre-major
Howard's Grove, Anna Johnson, freshman, art
Minnesota
Crystal, Brittany Warren, sophomore, pre-major
Milaca, Diana Johnson, senior, pre-professional
St. Paul, Sara Mickens, freshman, art
Mounds View, Kurt Blomberg, junior, health and human performance
-30-
Last updated: Thursday, 22-Apr-2010 16:07:03 Central Daylight Time