UW-RF Home > University Communications Home > This Month's News Releases
University Communications
For more information contact mark.a.kinders@uwrf.edu or brenda.k.bredahl@uwrf.edu.
University Theatre Presents Play Exploring Terrorism
By Justine Benzen
UW-RF University Communications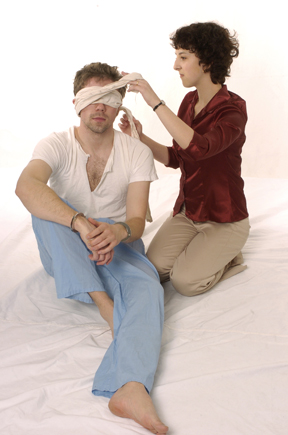 FEB 3, 2006--The University Theatre at UW-River Falls opens the 2006 spring semester with a production of Lee Blessing's "Two Rooms" in the Syse Studio Theatre of the Kleinpell Fine Arts Building Feb. 23-25 and March 2-4 at 7:30 p.m.
"Two Rooms" is a drama, written in the 1980s, that tells the story of a couple separated by terrorism and united by fear. It examines the issue of terrorism from both a personal and a political perspective and bristles with tropical relevance for these uneasy times.
According to the play's director and UW-RF theater Professor Meg Swanson, the play is an examination of national policies. " Two Rooms is a forceful reminder of the challenges we face in our understanding of the Middle East conflict," says Swanson. "It brings this large and confusing issue into focus through the lives of four characters. Come expecting an emotional experience."
The play offers a microcosm into one the most immediate issues of our time: the confrontation of cultures against the background of history and economics. It describes the journey of a man taken hostage in Lebanon, details the anguish of his wife, and examines the social policy surrounding terrorism.
Kate Garlock, a sophomore from Little Canada, Minn., plays Lainie, the wife of a hostage who lashes out against government policies, triggering a startling conclusion.
Adam Helbach, a senior from Brule, Wis., plays the character Michael, a college professor in Beirut, Lebanon, who is taken hostage by Islamic fundamentalists.
Amber Webb, a sophomore from Hudson, Wis., plays Ellen, a bossy State Department liaison who represents the government's position.
Mike McKay, a junior from River Falls, Wis., acts as Walker, a crusading reporter who wants to publicize the story.
Tickets are $7 for adults and $4 for students. The box office, located in the lobby of the Kleinpell Fine Arts Building, is open two weeks before the production and one hour prior to performance. For more information and season ticket information contact the University Box Office at 715-425-3114 or 1-800-228-5423.
-30-
Last updated: Thursday, 22-Apr-2010 16:07:01 Central Daylight Time