UW-RF Home > University Communications Home > This Month's News Releases
University Communications
For more information contact mark.a.kinders@uwrf.edu or brenda.k.bredahl@uwrf.edu.
Harvard Physician Urges a Balanced Approach
JAN. 20, 2006--After months of discussions about student mental health at the University of Wisconsin-River Falls, Dr. Richard Kadison, chief of Mental Health Services at Harvard University and co-author of the book "College of the Overwhelmed: The Mental Health Crisis and What to Do About It," shared his expertise at a day-long workshop Jan. 19.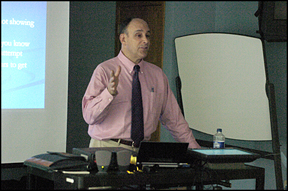 Kadison said that students at UW-River Falls face the same stresses and issues that students on other campuses face such as depression, eating disorders and sleep deprivation. Kadison urged workshop participants to consider the individual roles that college personnel, parents and students play in balancing academic demands and mental health needs.
All college personnel can be a part of alleviating the crisis. "Dining hall staff can see eating disorders; residential staff can see behaviors," said Kadison. "Faculty and senior administration must take student well-being seriously and provide resources."
Faculty, staff, parents, administrators, students and community members can all be an active part of the solution if they learn to recognize the symptoms associated with being overwhelmed, Kadison said. In addition parents, faculty and staff can take steps to ensure that students have access to appropriate care and help identify and reduce the sources of stress that pushes too many college students to the edge.
Counseling services on and off campus are available for students, and students should be urged to make use of these recourses. Kadison noted that studies have indicated that students who seek counseling services may achieve an increase in their grade point averages.
Kadison has been a member of the faculty at Harvard since 1994. He received his undergraduate degree from Brown University and attended Loyola University Medical School. He did residencies in both adult and child psychiatry and has special interest in working with student athletes and those with eating disorders.
In his book, Kadison outlines the factors that contribute to stress at college, including financial worries, parental pressure and academic competition and offers proposed solutions to the dilemma.
-30-
Last updated: Thursday, 22-Apr-2010 16:06:59 Central Daylight Time