UW-RF Home > University Communications Home > This Month's News Releases
University Communications
For more information contact mark.a.kinders@uwrf.edu or brenda.k.bredahl@uwrf.edu.
Exhibition Features 'Forest' Installation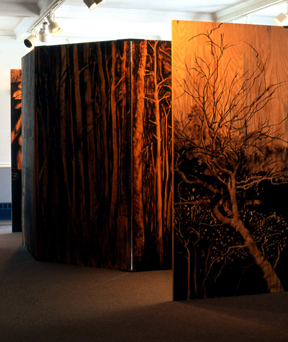 JAN. 20, 2006-A cubist-like forest allowing viewers multiple perspectives will be installed in Gallery 101 at the University of Wisconsin-River Falls by Duluth, Minn. artist and writer Ann Klefstad, who will an artist-in-residence on campus Feb. 6 to 8.
"Forest," Klefstad's work, will be installed in Gallery 101 Feb. 7 - 28. The subject of the installation features interlocking forms and shifting light patterns of a forest near her Minnesota home. Originally created for the Duluth Art Institute's John Steffl Gallery, "Forest" is a maze-like environment of 4' x 8' plywood panels painted using roofing tar with images of trees and animals. The resulting installation produces a "cubist forest" in which visual perspective is constantly changing.
The artist's presentation with slides is 3 p.m. Feb. 8 in the Blanche Davis Theatre of the Kleinpell Fine Arts building, followed by a reception in Gallery 101 from 4 to 6 p.m. The exhibit, opening and talk are free and open to the public.
While in residence, Klefstad will visit several classes in the Kleinpell Fine Arts building, including Feb. 6 from 4 to 5:30 p.m. in Room B101, on career advice and art criticism and from 6 to 7 p.m. in Room 288, on writing about art. On Feb 7, Klefstad will talk about art history influences on her work from 11:15 a.m. to 12:40 p.m. in Room B107 and on mixed media in drawing/painting from 5:30 to 8:30 p.m. in Room B116. On Feb. 8 from 10:10 a.m. to noon, she will discuss photography as a source of visual ideas in Room B118. All presentations are free and open to the public.
Klefstad's desire to examine and translate the forest experience into an art installation stems from her belief that human perception of the natural world helps shape and determine thought processes. By looking at the forms and structures of the forest, Klefstad says she believes humans can gain a better understanding of their relationship to the world.
"As a species, we seem to need to perceive, in a deep way, the appearances of the natural world," says Klefstad. "The vast complexity of a forest is bordering on chaos but is never chaotic, driven as it is by the purposive patternmaking DNA of thousands of entities - organisms as attached to life as we are; organisms that embody their knowledge; organisms that are their own language, their own significance. I think we must trust that our desire to see and know these forms is also significant, and that this desire shapes our own thoughts and understanding of ourselves and our relationships to the world."
Walking the forest with her camera, Klefstad documents the screen of trees that surround her by rotating the shots in a 360-degree radius, creating various vantage points.
"The incredible complexity of all the brachiating organisms, each with its own driving purposes that form its branching directions, layered hundreds deep - this can't really be fully captured by anything but photography," Klefstad notes.
Klefstad returns to the studio with these images and projects them onto sheets of plywood. Next she begins the process of capturing not just the lines of the trees and branches on the plywood, but the energy and spirit of the woods in which she hikes.
"The projections are vibratingly complex as I see them overlaid on the grain patterns of the wood," she says. "I get on a ladder and, with a big graphite stick, start following the flows of the limbs out to the twigs, quickly, so the line stays fresh and informative. This is a kind of mindless state, given over to nothing but seeing and following the lines of the trees. Where there are pools of darkness - the thick foliage of pines that shade into black, or the deep shade between trees - I wipe the graphite across the dark, creating spreading outlines of depth."
Klefstad responds to the interplay between the natural grains of the plywood surface on which she is working and the texture of the projected forest. When she feels she has captured the essential space of the forest she picks up her asphaltum-soaked brush and begins painting.
First focusing on the deep voids between trees, Klefstad brushes the tar deeply into the surface of her preliminary drawing. "It's like carving, digging into the surface with the dark tar, which lifts the trees and pushes them into the foreground. The effects become uncannily spatial," explains Klefstad.
Beyond the trees and scattered deer that inhabit the "Forest," the artist has added an imaginary population she calls "the elementals." These leafy-headed humans, posed in dramatic gestures, add a layer of imagination to the forest.
"It was a desire to lighten the idea of the forest, to ensure that humans of many forms and levels of reality had a home there - just as Shakespeare's comedies, Greek pastorals, and fairy tales take place in forests, [the work suggests] realms of life more intensely lived than is possible in our overly civilized cities and towns," explains Klefstad.
Klefstad has exhibited her work nationally and received numerous grants and commissions. In 2000, Klefstad and Jeffrey Kalstrom sculpted "Floodwaters," commissioned by the city of St. Paul's Harriet Island Levee Project, which was honored by the American Association of Landscape Architects. She has also completed a commission for Metro Transit in Fargo called "Earth / Heaven: Prairie / Sky" and a commission with Jeffrey Kalstrom for the Minnesota Percent for Art in Public Places called "Waterfall," installed at Hibbing Community College.
Klefstad graduated from St. Olaf College with a triple major in fine arts (sculpture), English, and a self-designed major in philosophy and the aesthetics of metaphor. She has completed graduate-level study in visual arts, literature, critical theory and aesthetics. Klefstad is also a critic and scholar of the relationship between art and everyday life. She also writes reviews, editorials and critiques of contemporary art for mnartists.org and teaches writing at the University of Minnesota-Duluth.
For more information on Klefstad's visit or the exhibit, contact art Professor Lynn Jermal at 715-425-3375 or lynn.m.jermal@uwrf.edu .
-30-
Last updated: Thursday, 22-Apr-2010 16:06:59 Central Daylight Time