UW-RF Home > University Communications Home > This Month's News Releases
University Communications
For more information contact mark.a.kinders@uwrf.edu or brenda.k.bredahl@uwrf.edu.
Harvard Physician Holds Workshop on Campus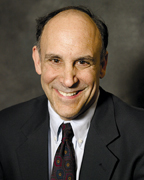 JAN. 6, 2006--An editorial in the Chronicle of Higher Education in 2004 reported that serious mental health problems are growing on college campuses and that more professional resources are needed to solve them. The editorial was written by Dr. Richard Kadison, Chief of Mental Health Services at Harvard University and co-author of the book "College of the Overwhelmed: The Mental Health Crisis and What to Do About It."
One of the premiere authorities on collegiate mental health, Kadison will share his expertise with the University of Wisconsin-River Falls in a day-long workshop for faculty, staff, students, their parents, and the community including health professionals on Jan. 19, beginning at 9:30 a.m. in Abbott Concert Hall in the Kleinpell Fine Arts building.
Kadison's workshop, free and open to the public, begins with an hour-long general talk on college mental health issues. At 10:30 a.m., a coffee break is planned in the Kleinpell Fine Arts lobby. The workshop will move back into Abbott Concert Hall at 11 a.m. for a breakout session in which participants will be given the opportunity to discuss proposed solutions to the problem, as well as examine plans other universities have set into place. This session is also open to the public.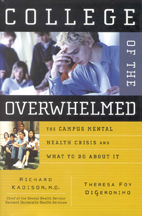 Kadison will be meeting with the "Campus of the Overwhelmed" reading group for a lunch session. The group was formed after UW-RF received a $2,500 grant from the Association of American Colleges and Universities Bringing Theory to Practice Project. The grant allowed for the purchase of 30 of Kadison's books, as well as funding Kadison's visit. Members of the group will be able to share their thoughts and feedback with Kadison.
At 1:15 p.m., Kadison will be meeting with faculty members to discuss their concerns, as well as ways to deal with mental health issues of students. Kadison will also hold a session at 2:30 p.m. for university administration, health staff and residential living staff in which solutions to the problem will be talked about.
Gretchen Link, a licensed independent clinical social worker and UW-RF counseling services staff member, says she hopes those who participate in the workshop will gain a better understanding of student mental health issues, as well as learning about how to assist students.
Kadison has been a member of the faculty at Harvard since 1994. He received his undergraduate degree from Brown University and attended Loyola University Medical School. He did residencies in both adult and child psychiatry and has special interest in working with student athletes and those with eating disorders.
In his book, Kadison outlines the factors that contribute to stress at college, including financial worries, parental pressure and academic competition and offers proposed solutions to the dilemma.
For more information, please contact Brad Caskey, associate dean, College of Arts and Sciences, at 715-425-3366, or Alice Reilly-Myklebust, co-director of Student Health and Counseling at 715-425-3293.
-30-
Last updated: Thursday, 22-Apr-2010 16:06:58 Central Daylight Time