UW-RF Home > University Communications Home > This Month's News Releases
University Communications
CAFES Dean Says 'Goodbye' After 31 Years at UW-RF
By Jenna Wegner
UW-RF University Communications
[photos]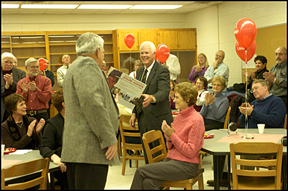 DEC. 23, 2005-- In 1974, fresh from completing a doctorate at the University of Maine, agriculture teacher Steve Ridley was searching for a position at a Midwestern university. He found one at the University of Wisconsin-River Falls, and after 31 years of dedicated service, Ridley will retire as Dean of the College of Agriculture, Food and Environmental Sciences (CAFES) in January.
Growing up among the lush forests, majestic mountains and clear lakes of central Maine, Ridley attended the University of Maine, graduating with a bachelor's degree in biochemistry. After graduation, Ridley served three years with the U.S. Peace Corps, teaching science in Nigeria. He then returned to the University of Maine and completed a master's degree in bacteriology and a Ph.D. in plant science with a food science emphasis.
After graduation, Ridley and his wife, Janet, found the Midwest very attractive, and he gladly accepted the food science teaching position he was offered. In 1980, he was asked to serve as assistant dean while the late Dean Jim Dollahon was on sabbatical. Ridley then served as associate dean under both Gary Rohde and Bill Anderson and became dean of the college in 2002.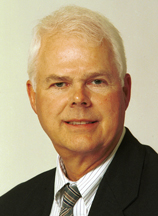 During his time at UW-RF, Ridley says he has most treasured his one-on-one time with the students. He also thoroughly enjoyed classroom experiences and hopes that over the years he left a legacy to the graduates. "Students are attracted to our small campus atmosphere to receive more individual attention, and that's what we're all about," explained Ridley. "While other universities may attract students from within a small radius of their campuses, CAFES is continually recognized as having a truly statewide reputation for attracting students from all corners of Wisconsin."
This individual attention has an enduring effect. "Steve has cultivated many long-lasting relationships and is continuously in contact with alumni," says Food Science Professor Purnendu Vasavada, who has worked with Ridley on many research and service projects around the country and abroad over the years. "Many of his former students have benefited from his courses and development."
Ridley says that one challenge facing the University is to maintain a reputation of excellence in teaching while facing budget cuts. "Times are getting tougher, and state funding has decreased dramatically. It will be a major challenge to figure out how to live and work within our means," said Ridley. "Do we compensate by dropping programs and staff? Tough decisions will need to be made."
A new Dairy Learning Center on campus is one goal Ridley and other UW-RF staff, alumni, community members, legislators and industry leaders have worked toward over the years. "I'm very optimistic, and we should know for sure by early spring if it's a go," he said.
Despite the reality of funding challenges, enrollment at UW-River Falls continues to rise, which Ridley says he believes is mainly influenced by alumni accomplishments and the long-standing reputation of UW-RF and the college.
Animal Science Professor Tony Jilek believes Ridley's vision has also been a major factor for increased enrollment within CAFES. "CAFES is already well recognized, but Ridley has helped maintain our reputation as well as the outstanding qualities our college possesses," said Jilek.
As Ridley's job description evolved from teaching to administration duties, he says he's especially enjoyed the professional working relationships within the college and across campus. Ridley is also quick to credit administrators and deans from the other colleges for their ability to work well with one another and to create an open spirit among the faculty, fostering cooperation and collaboration across campus.
"Dean Ridley will definitely be missed," says Jilek. "He has been a fixture in the college for many years. He has an excellent grasp of the college and what it means to us. It will be hard to find his replacement."
Vasavada has known Ridley since he joined UW-River Falls in 1977. "Steve is an excellent leader who has provided mentoring to the junior faculty, especially within the food science department," says Vasavada, who also noted that CAFES has made tremendous progress since Ridley has been dean because of his vision of the future of CAFES. "He is always open-minded to new and exciting opportunities and has always encouraged faculty to go after them."
As an alumnus having taken classes from Ridley and now a food science professor at UW-RF, Bonnie Walters feels he's just as supportive of the students now as he was then. "Steve is very student centered," said Watters. "He's always been there to support students and the college's organizations--not just in food science--but also for students throughout the college."
In addition to his campus responsibilities, Ridley is also active in numerous organizations. He is on the board of directors for the Wisconsin Rural Leadership Program and is the University of Wisconsin representative to the Wisconsin Agriculture Education Leadership Council, which studies and makes recommendations about agriculture education in Wisconsin schools and universities.
Ridley has also been active with international programs at UW-River Falls. Serving as the CAFES coordinator of international programs and coordinator of the East Central European Scholarship Program, he has led UW-RF into the future of international experiences and knowledge among the students. In 2002, Ridley was recognized by then Gov. Scott McCallum for obtaining more than $1.6 million in grants from the U.S. Agency for International Development, the U.S. Department of Agriculture and other agencies. He's been involved with the annual and internationally renowned Food Microbiology Symposium and workshop since its inception on campus in 1980.
UW-River Falls Chancellor Don Betz offers his sincere thanks for Ridley's service to the university as well. " His years of dedicated service leaves a lasting impression on students, colleagues and his disciplines. I thank Steve for the countless ways that he has served this institution and its students and has advanced UW-River Falls professional reputation."
Ridley was honored at a campus-wide reception on Dec. 21. As his days as CAFES dean wind down, Ridley has plenty of plans for retirement. He intends to spend time with his family, travel and catch-up on projects at his home. He's also interested in writing projects and open to working part-time if the right opportunity arises.
A national search is currently underway for the next dean of the College of Agriculture, Food and Environmental Sciences at UW-River Falls. A new dean is expected to be chosen early in the new year.
-30-
Last updated: Thursday, 22-Apr-2010 16:06:54 Central Daylight Time