UW-RF Home > University Communications Home > This Month's News Releases
University Communications
UW System Regent Visits UW-RF
By Lisa Stratton
UW-RF University Communications
[photos]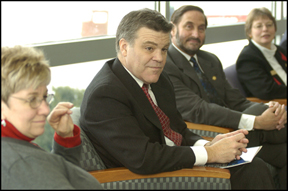 DEC. 23, 3005--University of Wisconsin System Board of Regents member Brent Smith visited campus on Dec. 12 to meet with faculty, students and staff.
Smith arrived at the Wyman Education Building that morning, accompanied by UW-River Falls Chancellor Don Betz. Upon arriving, he greeted those waiting to meet and speak with him, including Provost and Vice Chancellor for Academic Affairs Ginny Coombs, Dean of the College of Education and Professional Studies Connie Foster and Dean for Student Development and Campus Diversity Blake Fry. Many student representatives also attended, including senior Megan Learman, from Micoqua, Wis.
"It was great to see that the regents are interested in our campus, and I'm pleased to have had the chance to share with him some of the wonderful things going on at UW-RF," says Learman.
Learman, who is employed at the Office of International Studies, discussed the various scholarly international visits in which students from UW-RF are participating. Other topics talked about included the McNair Scholars Program and Plan 2008, a system-wide initiative to promote and increase diversity in both students and staff in the UW-System.
Nan Jordahl, associate professor and assistant to the provost and vice chancellor, also provided information to Smith on the UW-RF honors program, of which she is also the director.
Regent Smith expressed interest in the scholarly lives of the student representatives present, asking about their plans after graduation. Chair of the Board of Regents committee on student discipline and other student appeals, he also asked the students on their opinions ofnstudent segregated fees.
Chancellor Betz welcomed the opportunity to inform Smith of the progress and innovation going on at UW-RF.
"Brent clearly appreciated our hospitality and our clear commitment to helping students learn and excel," says Chancellor Betz. "He also understood the challenges we face. I believe that he will be a consistent supporter as we pursue our goals. We look forward to visits from other members of the Board of Regents in the coming months."
Smith is the president of the Wisconsin Technical College Board and an attorney with Johns & Flaherty in La Crosse, Wis. He received both a bachelor's degree and a law degree from UW-Madison.
-30-
Last updated: Thursday, 22-Apr-2010 16:06:54 Central Daylight Time