UW-RF Home > University Communications Home > This Month's News Releases
University Communications
Grads Urged to Develop Social Conscience
By Malisa Hyland
UW-RF University Communications
[photos]
Dec. 17, 2005--About 310 bachelor's and master's candidates and thousands of friends and family gathered for fall commencement on Saturday at the Robert P. Knowles Physical Education and Recreation Center at the University of Wisconsin-River Falls.
Degrees were conferred by Chancellor Don Betz and candidates for degrees were presented by Provost and Vice Chancellor for Academic Affairs Ginny Coombs; Dean Stephen Ridley of the College of Agriculture, Food and Environmental Sciences; Dean Terry Brown of the College of Arts and Sciences; Dean Barbara Nemecek of the College of Business and Economics; Director of Graduate Studies Douglas Johnson; and Dean Connie Foster of the College of Education and Professional Studies.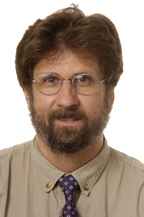 Addressing the crowd was economics Professor John Walker, selected as the 2005 Outstanding Teacher. Walker has been a professor at UW-RF since 1990. He holds a doctorate from the University of Utah with specialties in political and labor economics.
Walker's speech, titled "Maintaining our Commitment to Equal Opportunity," looked back at the history of equal opportunity and discussed how it remains relevant today. He urged graduates to develop and foster a social conscience as they enter the world of work.
"We are not isolated individuals who always have an exclusive right to pursue our interests in any way we see fit ... Surely we have our interest, automony and individual rights," said Walker. "But we are also organically connected and have our responsibilities to each other. There has to be a certain willingness to share."
Walker also addressed the continuing trend of tax cuts in the competitive marketplace. "The evidence strongly suggests that education is central to expanding our productive capacity. At the same time increasing access to higher education has been instrumental in promoting a more equal distribution of income. We should be continually seeking to improve our educational system and expanding our access to higher education."
Walker teaches political economic discrimination, history of economic thought, modern economics, micro/macro economic principles, intermediate macroeconomics, statistics for business and economics, and ethnic studies.
Walker also was involved in the development of the ethnic studies minor at UW-RF. His recent research, completed during a sabbatical last year, included a survey of self-employed individuals in St. Croix County. Other research interests include gender and cultural differences in compensation and earnings.
He has served the campus in various capacities including interim chair of the department of economics and serving on various committees including general education, chancellor's award for excellence, faculty development and student affairs.
Also speaking at the ceremony were the 2005 Outstanding Service Award winners Tom Palmer and Quentin Schultz. The Outstanding Service Award, established in 1983, recognizes individuals outside of the University community who have made exemplary contributions to UW-River Falls through their support of the institution's goals and their volunteer efforts.
Palmer, president and CEO of the First National Bank of River Falls, has served on the UW-RF Foundation Board on its investment committee for nearly eight years. He also played an important role in the development and financing of the UW-RF C.H.I.L.D Center facility.
Schultz is founder and president of BioDiagnostics Inc., a seed testing and molecular breeding service laboratory in River Falls. Biodiagnostics has opened its doors to students and faculty for learning and research, providing more than 90 internships for UW-RF students and hiring more than two dozen graduates.
Graduating music major Katherine M. Waldo of Menomonie sang the "UW-RF Pledge Song" and the "Star Spangled Banner."
-30-
Last updated: Thursday, 22-Apr-2010 16:06:53 Central Daylight Time