UW-RF Home > University Communications Home > This Month's News Releases
University Communications
Local Business Leaders Receive UW-RF Service Awards
By Kelli Hoff
UW-RF University Communications
DEC. 16, 2005--The recipients of this year's University of Wisconsin-River Falls Outstanding Service Award are area business leaders Tom Palmer and Quentin Schultz. The pair were honored with the award at UW-RF's fall commencement ceremony Dec. 17. The Outstanding Service Award is the highest honor from UW-RF presented to community members or organizations.
Palmer
Palmer is the president of First National Bank of River Falls/Prescott.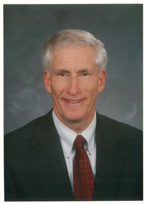 "Tom is a dedicated and effective community leader who recognizes the importance of UW-River Falls relationship to our town and region," says UW-RF Chancellor Don Betz. "He has consistently supported our programs and, importantly, our students. Tom has stepped up to serve on committees, and we have benefited from his counsel and insight; he is an appreciated friend of UW-River Falls."
Palmer has served on the UW-RF Foundation Board for almost eight years. During most of this time he has served on its investment committee. Palmer assisted in the UW-RF C.H.I.L.D. Center building project and the planning and financing of the facility, which serves student, faculty, staff and community families. He has also served on UW-RF's chancellor search and screen committee and the College of Business and Economics Advisory Board.
"In my opinion Mr. Palmer's dedication to UW-RF far exceeds those expectations for commitment," said Mark Kinders, director of University Communications at UW-RF. "He is most worthy of being named the recipient of the Outstanding Service Award."
Nominators noted that Palmer is active in communicating the value of higher education to legislators and business leaders around the state.
"Mr. Palmer has been an extraordinary partner and advocate to the UW-River Falls as a skilled leader, as a legislative advocate and as a community partner whose commitment to building an effective partnership between the University and our surrounding communities all have been one of the first order," said Kinders.
Palmer has partnered with UW-RF on economic development initiatives and also served the community of River Falls as both a founding member and fundraising chair for the River Falls YMCA. He was instrumental in establishing the First National Bank of River Falls Compass Scholars scholarship, which gives a $5,000 annual, four-year scholarship to a student of color majoring in business as well as a part-time work during the school year and full-time employment during the summer. Current recipient DiAnna Steines, of Elk Mound, Wis., is a sophomore at UW-RF and an employee at the bank.
"I very much enjoy Tom's energy and 'can-do' attitude. His commitment to the University and the River Falls community is obvious in his words and actions," said Mary Halada, vice chancellor of administration and finance at UW-RF.
Faculty and staff who nominated Palmer agree that his attitude and commitment make him a worthy recipient of the award. "In the few short years that Tom has been in River Falls, he has become a leader in our community. His willingness to give of his time and talents has been extremely advantageous to the University," said Halada.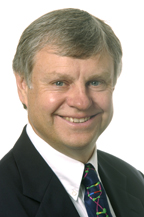 Schultz
In 1996, Schultz founded BioDiagnostics Inc., a seed testing laboratory and molecular breeding service laboratory, in River Falls.
Nearly 90 students have worked there as interns or in cooperative research capacities, and some two dozen UW-RF graduates have been hired at BioDiagnostics to date. The relationship between the University, Biodiagnostics and its president Quentin Schultz has become an important learning tool for many students as well as a research tool for faculty at the University.
"Quentin is a successful and insightful member of our business community. He could have located his thriving enterprise anywhere," says Betz. "Quentin chose to be in River Falls, and one of the reasons was to be near to and interactive with UW-River Falls. Quentin volunteers to serve on university committees that advance the institution and our community. He is openly supportive of UW-River Falls in many ways, and we acknowledge and appreciate his friendship and advice."
BioDiagnostics has participated in an internship program and a cooperative research grant with the University as well as an incubator feasibility study.
" BioDiagnostics maintains an 'open-door' policy with regard to faculty research, student field trips, access to the facilities for tours and for allowing students to view procedures and technical operations," said Steve Ridley, dean of the College of Agriculture, Food and Environmental Sciences.
Schultz's commitment to the University doesn't stop with employing UW-RF alumni and students. He has consistently supported UW-RF in meetings with Wisconsin legislators and served as a community representative on the chancellor search and screen committee.
"Mr. Schultz was a diligent committee member who represented the larger St. Croix Valley community with care and inspiration," said Kinders. "He was an important external voice."
Schultz is also committed to the River Falls community. He spoke with governmental leaders at the 2001 Wisconsin Economic Summit II with a message about the importance of biotechnology and advanced economic development in western Wisconsin.
At the summit, Schultz "made a distinct point that Wisconsin's biotechnology future not only lies in Madison and Milwaukee, but also in the St. Croix Valley," said Kinders.
UW-RF biology Professor E. Katherine Miller said: "It was fortunate for the city of River Falls that Mr. Schultz chose to locate BioDiagnostics in this community. We can only wish for the continued success and growth of BioDiagnostics."
The Outstanding Service Award was established in 1983 to recognize individuals outside of the university community who have contributed to UW-RF through their support of the institution's goals and who volunteer their time on the University's behalf.
Past recipients include Former Secretary of the Wisconsin Department of Agriculture, Trade and Consumer Protection James E. Harsdorf; Woodbury, Minn. teacher Linda Beedy; Law's Nursery Inc. of Hastings; United Parcel Service; finance executive Jeff McCardle; Genex/Cooperative Resources International of Shawano; and the City of River Falls, Pierce County and the Towns of Clifton, Kinnickinnic, River Falls and Troy.
.
-30-
Last updated: Thursday, 22-Apr-2010 16:06:53 Central Daylight Time