UW-RF Home > University Communications Home > This Month's News Releases
University Communications
AREA STUDENTS COMPLETE LANGUAGE PROGRAM
DEC. 5, 2005--Several children have spent the last eight weeks learning German, Chinese and Spanish as part of the University of Wisconsin-River Falls Global Kids program. Through the use of games, songs and other hands-on activities, these children from River Falls, Ellsworth, Prescott and Hudson have been learning the sounds of another language and about its culture.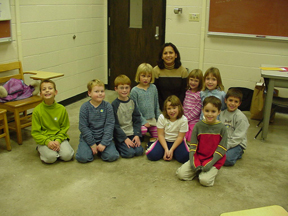 (Photo, left) Completing Spanish in grades K-2 are: L to R: Colin Rude, Simon Luebeck, Maxwell Luebeck, Livia Klechefski, Dina Petherbridge (instructor), Meagan Davis, Belle Force, Jada Panzer, Michael Schneider-Rebozo and Jackson Reis. Not pictured is Dylan Wittek.
Completing Global Kids Spanish for grades 3-5 were Gabe Frandsen, Lacey Friederichs, Alex Genson, Stacia Hanten, Sierra Huhnke, Allie Miller and Chrissy Palmer. Petherbridge, a River Falls High school Spanish instructor, was also the grades 3-5 teacher.
Completing Global Kids Chinese for grades K-5 were Ben Seifert, Logan Spiczak, Isaiah Stieger, Erik Warner, John Warner, Jens Myklebust and Reilly Myklebust. Chinese native Lan Yu was the teacher.
German class participants in grades K-2 included Christine Bicha, Mackenzie Bicha, Andre Dusek, Jordyn Frandsen, Fiona O' Connell, Benjamin Rayne, Tessa Rayne, Destinee Struemke, Alaina Syverson. Older German students included Matthew Coke, Erin Dailey, Ian Dailey, Natasha Dusek, and Kaija Warner. Hudson native and UW-RF student Rebecca McCombie taught the classes.
Most of these children will be continuing their foreign language journey in an additional eight weeks offered during the winter session.
Global Kids classes have taken place after school one day a week on the University campus. Each class is taught somewhat differently, but the reactions from the children in each class has been that it is fun. Lots of smiles and enthusiasm were evident and parents have echoed that sentiment in the feedback they have given.
For more information on the winter session of the Global Kids languages classes starting in January, visit the UW-RF outreach office Web site at www.uwrf.edu/outreach or contact the outreach office at outreach@uwrf.edu or call 1-800-228-5607.
-30-
Last updated: Thursday, 22-Apr-2010 16:06:52 Central Daylight Time