UW-RF Home > University Communications Home > This Month's News Releases
University Communications
CHINESE EDUCATORS VISIT UW-RF
By Justine Benzen
UW-RF University Communications
[photos]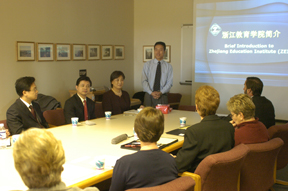 DEC. 5, 2005--Three delegates from Zhejiang Education Institute (ZEI) arrived at the University of Wisconsin-River Falls last week to discuss further developments related to international exchanges and visits.
UW-River Falls has had a relationship with ZEI since the early 1980s with numerous visiting scholars coming to UW-RF over the years to teach and to enroll in UW-RF's graduate programs.
The delegation of educational administrators was here to discuss further developments with UW-RF such as short term visits by UW-RF faculty to ZEI, both short- and long-term student exchanges between the two schools, and a "3 +1" degree programs for ZEI students at UW-RF.
"This is such a valuable experience for students, to be able to continue education in their province," said Brent Greene, director of international studies. "We are keeping the relationship alive by designing more ways for more direct exchanges."
Students from both schools have the opportunity to learn at ZEI or UW-RF to enhance their educational experience. ZEI is located in the garden city of Hangzhou and is the national model institutions of higher learning for adult education in China. It has 10 professional schools, including humanities, sciences and engineering, educational science and administration, art, computer information and contemporary education technologies, vocational education, foreign languages, economics and business, resources and environment, sports, and Zhejiang Qiuzhi College for sub-degree studies. ZEI also has several training centers for school personal, teachers and administrators. A rapidly growing campus, it currently has 20,000 students and 3,000 trainees.
"This connection has truly made us a global campus," said Greene.
Currently Guojian Xia, an English instructor from ZEI, has been teaching Chinese at UW-RF since fall semester 2004. During the delegate's arrival, Xia acted as an interpreter. Delegates includes Songlie Xu, vice president of ZEI, Ligong Song, assistant dean of the ZEI School of Economics and Business, and Gang Shen, director of teaching affairs at ZEI.
One of the first stops made by the group was the River Falls High School. Greene said they want to share the Chinese language with the high school and to see if Xia could teach the Chinese language to them.
Right now Greene says the challenge is to get students involved into going to their school. English speaking classes are available at ZEI.
"This can happen at any time. If a student is interested, we can make it happen," said Greene.
For more information regarding the delegates' visit, international studies and/or opportunities to study abroad contact Greene at 715-425-3238 or brent.d.greene@uwrf.edu .
-30-
Last updated: Thursday, 22-Apr-2010 16:06:51 Central Daylight Time