UW-RF Home > University Communications Home > This Month's News Releases
University Communications
HUMANITARIAN URGES AID FOR PAKISTAN
[photos]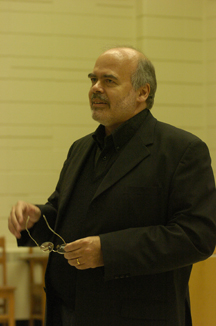 DEC. 5, 2005--International Humanitarian and 2004 UW-River Falls Distinguished Alumni, Sigurd Hanson, recently visited campus to talk about relief needed after a major earthquake hit Pakistan Oct. 8.
Hanson is the country director in Pakistan for World Vision, one of the world's largest humanitarian agencies. The Pakistan earthquake took 90,000 lives and left 800,000 without shelter in one of the most remote and difficult terrains on the planet. Some 6,000 schools were destroyed and at least 18,000 students and 900 teachers were killed.
Since Pakistan doesn't have a positive public relations image, raising funds to help relief efforts has been difficult, said Hanson. "Financially, the Tsunami relief efforts received $350 million whereas the Pakistan earthquake has received $9 million," he said.
Pakistan, which is about the same size as Wisconsin, has such an extreme terrain that search and rescue efforts are taking much longer than anticipated. "The people of Pakistan are dealing with issues they've never dealt with before and with an area that receives over 25 feet of snow, we've got to keep these people warm and supply them with food," declared Hanson.
One of World Vision's main goals is to make the children smile again. "Tracing children back to their families is very critical. We want to make them feel safe and secure," explained Hanson.
A fund for Pakistan earthquake victims has been set up by the UW-RF College of Agriculture, Food and Environmental Sciences. Donations for Hanson's organization, World Vision, are being collected in the CAFES dean's office, 210 Ag Science Building, 715-425-3841.
-30-
Last updated: Thursday, 22-Apr-2010 16:06:51 Central Daylight Time