UW-RF Home > University Communications Home > This Month's News Releases
University Communications
FALCON FOODS OFFERS HOLIDAY TREATS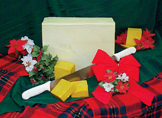 NOV. 22, 2005--Pick up a special holiday treat at the Falcon Food Store located in room 149 of the Food Science Addition in the Agriculture Science Building on the University of Wisconsin-River Falls campus.
This year Falcon Foods Cheese Gift Boxes are available with 16 varieties of cheese along with a stick of Wisconsin's finest summer sausage. Selections of cheese are available in either 8 oz. or 1 lb. blocks. Cheese varieties can be combined to form a 2 lb. or 4 lb. gift box.
Other options to choose from include meat and ice cream products. Ice cream is available in a wide range of sizes and flavors including Maple Nut, Chocolate Chip Cookie Dough, Cookies & Cream , Peanut Butter Crunch, Peanut Butter Fudge, Caramel Apple , Rum Cherry, Winter Wonderland, Peppermint Stick, Chocolate, Vanilla, and Strawberry.
Meat products include snack sticks, beef liver, hot dogs, lean hamburger, brats and pork links.
Falcon Foods are produced by UW-River Falls students in the university plant, which has been in operation since 1983. Students work under the direction of a full-time plant manager and produce a variety of products.
Students get the unique opportunity to work in a commercial plant setting. The dairy plant uses raw milk from the University Dairy Farm and is primarily self-supporting. The meat plant gets some of its animals from the University Lab Farms.
The primary goal of the plant is to provide a valuable learning experience that the students can take with them and put to use on the job. They are involved in all aspects of production, sanitation and quality control.
The Falcon Food Store is open Monday through Friday, 11 a.m. until 5 p.m. The Falcon Food Store phone number is 425-3702. For more information, contact Ranee May at 715-425-3704 or at ranee.j.may@uwrf.edu .
-30-
Last updated: Thursday, 22-Apr-2010 16:06:50 Central Daylight Time