UW-RF Home > University Communications Home > This Month's News Releases
University Communications
DAIRY JUDGING TEAM TAKES FIRST AT NATIONALS

By Jenna Wegner
UW-RF University Communications
NOV. 22, 2005--The University of Wisconsin-River Falls Dairy Judging team earned first place at the North American International Livestock Exhibition in Louisville, Ky. on Nov. 6.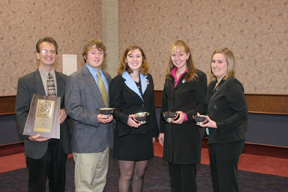 The dairy judging team (L to R), coached by Steve Kelm, professor and chair of the department of animal and food science, includes team members Daniel Lauderdale, a junior from Elkhorn, Wis., majoring in dairy science; Charlotte Muenzenberger, a junior from Coon Valley, Wis. majoring in dairy science; Leah Johnson, a junior from La Crescent, Minn., majoring in agriculture education; and Alexandria Cooper, a senior from DeForest, Wis., majoring in agriculture education and math.
All of the team members excelled in different aspects of the competition. Cooper was 5 th place in High Individual Overall, 3 rd in Ayrshire and 10 th in Guernsey. Johnson was 8 th place in High Individual Overall, 2 nd in High Individual in Oral Reasons, 6 th in Brown Swiss and 7 th in Guernsey. Muenzenberger was 1 st in Guernsey, 8 th in Ayrshire and 11 th in High Individual Overall. Lauderdale was 23 rd place in High Individual Overall and 11 th in Guernsey. As a team, the students placed 4 th in High Team Total Reasons.
Kelm and the team are extremely excited about the outlook for next year. "While the outcome of next season is unknown, we have a good group of judges coming up next season to fill the gaps," said Kelm.
For team member Leah Johnson, it was an easy decision to stay involved with the judging team when she came to UW-River Falls. "I judged in 4-H and FFA and it was something I really liked to do. My favorite part of judging is giving reasons," she said. "It's also a great way to meet a lot of people, travel and connect with the dairy industry."
Kelm and Johnson both agree that competition on the dairy judging team helps members develop communication and professional skills.
Kelm also believes that as students start searching for jobs within the dairy cattle industry, employers like to see dairy judging experience and the fact that they understand dairy cattle and have developed public speaking skills through judging.
"If you're able to argue your point and persuade someone you're right," said Kelm. "That's the best life skill to have."
-30-
-30-
Last updated: Thursday, 22-Apr-2010 16:06:49 Central Daylight Time