UW-RF Home > University Communications Home > This Month's News Releases
University Communications
DANCE MARATHON EARNED $3,200
By Jenna Campbell
UW-RF University Communications
NOV. 18, 2005-- University of Wisconsin-River Falls students danced their way to raising $3,200 for the Gillette's Children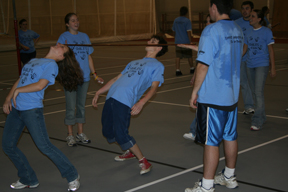 Hospital on Nov. 12 at the annual Dance Marathon. Smiles 4 Kids, a UW-RF organization, sponsored the marathon.

"Overall the Dance Marathon was a success," says Michelle Abts of La Crosse, co-president of Smiles 4 Kids. The event was held on campus at the newly remodeled Robert P. Knowles Physical Education and Recreation Center.

The marathon gave 125 participants the chance to show off their dance moves for eight hours. The team Stratton Hall raised the most money overall, and student Hayley Hagmann, of Eau Claire, Wis., raised the most individually with a total of $380.

"This year I am a resident assistant and I really wanted to get some of my first-year students in on the fun, and hopefully it would be a good memory for them to keep and hold throughout their experience at UW-RF," says Hagmann. "I thought that dance marathon was pretty fun overall."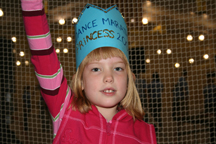 One highlight of the event was hearing personal stories from families who have members who have been patients at Gillette Children's Hospital. The Hadlich family from Hudson, Wis.,—father David, mother Cindy, and children Sara, Alex, and Gracie—shared their story at the marathon about how the specialty hospital affected their lives. Gracie, 5, has been diagnosed with Spina Bifida; she was crowned the "Princess" of the Dance Marathon.

"Gracie was very energetic, active and happy," says Abts.



-30-

Last updated: Thursday, 22-Apr-2010 16:06:47 Central Daylight Time