UW-RF Home > University Communications Home > This Month's News Releases
University Communications
RIVER FALLS BRASS BLOW THEIR HORNS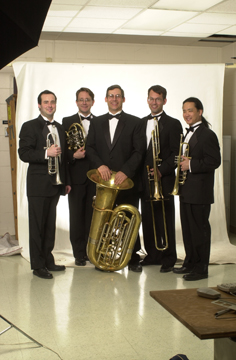 NOV. 11, 2005-- A concert by River Falls Brass will be at 8 p.m. on Nov. 20 on campus at the William Abbott Concert Hall in the Kleinpell Fine Arts building and feature the music of Eugene Bozza, Victor Ewald, and Witold Lutoslawski.
Music River Falls Brass is composed of UW-RF faculty members: Tom Barnett and Craig Hara on trumpet; Andy Parks on horn; Rick Gaynor on trombone; and Charles Wazanowski on tuba. The group's individual members have a wide musical background including symphony orchestras, musicals, jazz and brass ensembles, and scores for television and films.
Tickets are available at the door. Admission for the event is $5 for adults, $3 for seniors, $2 for all students, and children five and under are free. For more information check out the River Falls Brass Web site at www.uwrf.edu/brass/ .
-30-
Last updated: Thursday, 22-Apr-2010 16:06:45 Central Daylight Time