UW-RF Home > University Communications Home > This Month's News Releases
University Communications
WISCONSIN'S FIRST LADY VISITS UW-RF

By Lisa Stratton
UW-RF University Communications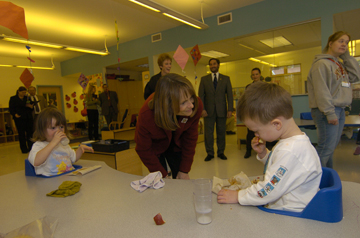 NOV. 11, 2005-- First Lady of Wisconsin Jessica Doyle made a brief stop at the University of Wisconsin-River Falls on Nov. 9, taking a tour of campus and learning about both construction and academic projects in progress. Doyle also met with McNair scholars, student leaders and UW-RF faculty and staff.
Doyle's first destination was the C.H.I.L.D. Center, the campus daycare center providing care to the children of students, faculty, staff and members of the community. There Doyle met with Chancellor Don Betz, Vice Chancellor of Administration and Finance Mary Halada, and Mark Kinders, director of University Communications. Angela Kaiser, director of the center, gave Doyle a tour while explaining the center's mission and goals.
"This must be a parent's dream come true," says Doyle. "What a wonderful place."
After asking many questions about the center and visiting with children and teachers, Doyle traveled to the Wyman Education building where she was welcomed by her cousin, John Laird, a librarian at UW-RF's Chalmer Davee Library.
Also meeting with Doyle was Provost and Vice Chancellor for Academic Affairs Ginny Coombs, Dean for Student Development and Campus Diversity Blake Fry, Student Senate President Nick Cluppert, and McNair scholars including Maureen Casey, a senior psychology major from New Richmond, and Leon Gbee, a senior majoring in sociology from River Falls, as well as various other students and faculty/staff members.
"It was a unique experience to sit with a person of such prominence and to have her take time out of her day to see what goals we are accomplishing as a university," says Jeremy Bonikowske, shared governance director of Student Senate. "People with power do have heart."
Topics of discussion included the McNair scholars program, which is designed to help students from low-income families and first-generation college students attend graduate school and obtain doctorate degrees.
Doyle was also interested in UW-RF's Hurricane Katrina relief efforts, and listened intently as Brent Turner, leadership training coordinator, explained the plan to extend both manpower and aid to the University of Southern Mississippi over two trips during J-term and spring break.
Doyle, whose background includes more than 35 years of experience in the field of education and a stint in the Peace Corps with her husband Gov. Jim Doyle, was particularly interested in those students who said their aspirations were to become teachers.
"I really believe teachers at all levels are great determiners of the future," says Doyle. "Teachers are continually shaping lives."
The visit concluded with a tour of the Education Technology Center, the lab in the Wyman Education building that serves to train teachers in the integration of technology into their classrooms. Karen Ryan, director of the center, explained many of the new technologies that are being taught to students at UW-RF and introduced Doyle to several members of the Technology Leadership Cadre.
"We all enjoyed our time with Wisconsin's First Lady, Jessica Doyle," said Chancellor Betz. "She commented on the laudable commitment of our students to public service such as the Katrina efforts. Mrs. Doyle openly enjoyed her interaction with the three McNair student representatives, and my sense is that she found the C.H.I.L.D. Center one of the highlights of her time here. We were delighted to host Mrs. Doyle for her visit to UW-RF, and we look forward to her return."
Earlier in the day, Doyle also visited schools in Menomonie and Prescott, and planned to visit schools in Hudson, Amery and Rice Lake the following day. A former teacher, Mrs. Doyle has visited hundreds of schools in Wisconsin and promotes the "Read Wisconsin" program to elementary students.
Doyle expressed how pleased she was with her visit to UW-RF. "I have had a fabulous visit. The new construction and activities are truly inspirational. It's wonderful to see how the students and teachers work together here."
-30-
Photo caption: Wisconsin's First Lady Jessica Doyle greets Monty Wilson, son of Melissa and Justin Wilson of River Falls, while he enjoys afternoon snack. Also pictured (left) is Shayna Gimbut, daughter of Tracia and Edward Gimbit of River Falls. Back, from left: Vice Chancellor for Administration and Finance Mary Halada, Chancellor Don Betz, and CHILD Center Director Angela Kaiser.
-30-
Last updated: Thursday, 22-Apr-2010 16:06:45 Central Daylight Time