UW-RF Home > University Communications Home > This Month's News Releases
University Communications
WYMAN SERIES PRESENTS EINSTEIN PERFORMANCE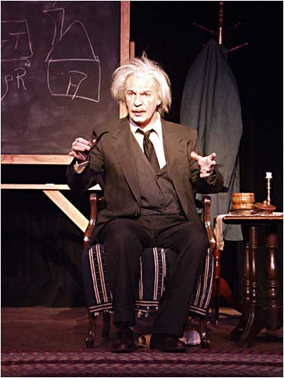 NOV. 11, 2005-- As part of the University of Wisconsin-River Falls Wyman Series, performance artist Tom Schuch will present, "Einstein: A Stage Portrait," by Willard Simms on Wednesday, Dec. 7, at 8 p.m. in the Abbott Concert Hall of the Kleinpell Fine Arts Building.
Spoli Productions presents this award-winning, one-man, full-length play, which brings to life the brilliant and sometimes controversial theoretical physicist that Time magazine names to be their "person of the century." "Einstein" will present an evening of humor, introspection, science and a little violin.
After graduating with a degree in drama from the University of Washington, Schuch began his version of life's pursuit and over the years lived in Seattle, Denver, Los Angeles, and Albuquerque. He has acted in more than 50 theatrical productions, a variety of short and feature films, industrial films, television and voice-over commercials. He has made guest appearances on the "Young & the Restless," "The Nanny" and "The Red Shoe Diaries." He was a founding member of a professional comedy improv troupe, Surely You Jest, and performance group, Shakespeare-on-the-Halfshell. Schuch is the president of SPOLI Productions, president of the New Mexico Branch of the Screen Actors Guild, and a member of Actors Equity Association and the American Federation of Television and Radio Artists.
Cost is free for students, $3 for age 18 and under and $5 for the public. For more information contact the UW-RF student leadership center at 715-425-4911 or http://www.uwrf.edu/leadership/welcome.html . For more information about the one-man play, contact, www.spoli.com .
The UW-RF Performing Arts Committee as well as the Diversity Awareness committee, both part of the leadership Development and Programming Board, sponsor the free Wyman Series. Funding for the series is provided by student fees, which are allocated to various student organizations and committees for the productions.
-30-

Last updated: Thursday, 22-Apr-2010 16:06:44 Central Daylight Time