UW-RF Home > University Communications Home > This Month's News Releases
University Communications
STUDENT ORGANIZATIONS GROW, CHANGE
By Lisa Stratton
UW-RF University Communications

NOV. 4, 2005--With more than 135 recognized student organizations and programs at the University of Wisconsin-River Falls, one might think that students have the turf covered. But each year the list continues to grow with several new groups and existing organizations continuing to expand and enhance their presence on campus.
One of UW-RF's newest organizations is a men's golf team, known as the Swinging Squirrels. This group began as a class project when speech Professor James Pratt's persuasion class was assigned to complete a persuasive campaign. Justin Miller, now president of the Swinging Squirrels, pitched his idea for bringing a men's golf team to some of the students in the class.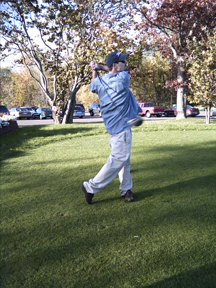 "There is a girl's team but no guy's team," says Miller. "I just wanted to play."
The group then began seeking members needed to create a new organization by putting up posters and through word of mouth. Women from the class helped Miller get the ball rolling. At their first meeting, approximately 12 men attended.
"[The men] kind of looked confused when they came to our meeting room," says classmate Jenny Aleckson. "They saw one guy and a group of girls and wondered if they were in the right place."
Enough men showed an interest, and the team has been out on the course this fall. Miller says next spring they will be out in full force, and possibly holding tryouts for members as they attempt to make the group become a club sport.
Miller also says that next year is going to be a big year for men's golf. They plan on having a "Back-to-School" tournament and hopefully compete with teams from other universities.
The name the group chose is distinct. "It has a nice ring to it, don't you think?" says Miller.
Another new group this semester is Up Til Dawn, a group seeking to raise funds for St. Jude's Research Hospital in Memphis, Tenn. St. Jude's, a facility that treats children regardless of their ability to pay. The hospital requires $1 million a day to function.
Stephanie Grover, a sophomore from Carlton, Minn., started the group and is its executive director. The executive board consists of four other members, and the group has general membership as well.
Other student groups can participate in Up Til Dawn by forming a team. Each team member then sends 50 form letters seeking donations from friends and relatives. Teams can register by Nov. 8, and a meeting of all the teams will be held on Nov. 29 to write the letters.
Grover says that this year the organization hopes to have 10 to 15 teams signed up and raise $7,000.
The event will be in February 2006 where the teams of students will stay up all night, with music, food and prizes.
"It's called Up Til Dawn because cancer doesn't sleep, so neither will we," says Grover.
Existing organizations on campus have also made great strides in order to make themselves bigger and better. One of these groups is College Republicans.
"Our mission is to promote Republican ideals such as conservatism and traditional morals," says Becky Muck, secretary of the organization who is from Green Bay.
After a surge in membership surrounding the last presidential election, the organization has continued holding weekly meetings, campaigning for local candidates, and hosting fun events like bowling and movie nights.
Muck says the College Republicans group has sought to change its image to be more accepting of differing views and beliefs and to be a very positive group on the whole.
Muck also says that Joey White, the current chairperson of the organization and a columnist for the UW-RF Student Voice who is from Rhinelander, Wis., says he tries to not take a one-sided stance in his editorials. Muck says that White's column is more balanced as compared to previous members of College Republicans who have also been Voice columnists.
"Personally, I believe that it is appropriate that we be a little more tolerant of others' views. Extremism at either end is not a good thing," says Muck.
Falcon Cheer and Stunt has also seen great changes within the past year.
Cheer and Stunt, also known as Falcon Cheerleading, has seen a significant increase in its membership in the past two years, due to the addition of a competition squad and to their increased presence on campus.
Claiming that promoting school spirit is its main mission, Cheer and Stunt has begun performing at half-time at basketball games as well as cheering at all home football, men's basketball and men's hockey games. Members of the organization will also be helping out with Family Day, painting faces and taking photos of students and family members with Freddy Falcon.
The cheerleaders also competed in the Homecoming organization competition and royalty contest and the parade. In addition, Cheer and Stunt procured the convertible for UW-RF Chancellor Don Betz to lead the parade in.
In the future, the organization is looking to have its competition squad compete nationally, with larger squads. The cheerleaders also aspire to hold clinics for local high schools during the summer and continue to hold an annual day clinic for Girl Scouts from around the state.
"I am ecstatic about the progress that has been made since I first joined the organization," says Michelle Dodge, president and competition squad coach, from Spo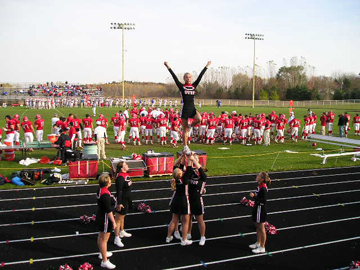 oner, Wis. "It is all owed to the women and their hard work and dedication."
Another group seeing a significant increase in membership is InterVarsity Christian Fellowship. InterVarsity, an international organization that began at the University of Cambridge in England, is so named for the community ideal (inter) and the British term for collegiates (varsity) that come together to form the group.
Jason Hull, IVCF staff member, says that there has been a steady 10-15 percent increase in membership in recent years. According to Hull, the organization currently has about 140 students.
"Our goal is to advance communities of students who follow Jesus Christ," says Hull.
The organization consists of both large and small group meetings. The large group meetings are every Thursday at 7:30 p.m. in North Hall Auditorium. There are also 17 smaller groups that meet at varied times during the week. Some groups have a special emphasis, such as one group that consists mainly of sorority women.
InterVarsity continues to also plan activities such as cookouts and Ultimate Frisbee, as well as sending members to attend conventions with a religious emphasis.
"In the future, we want to continue to bring Jesus to campus. We talk about religion without shoving it down anyone's throat," says Hull.
Clubs and organizations continue to be a significant way for students to become involved on campus. For more information on current organizations, please contact the UW-RF Student Leadership Development and Programming Center at 715-425-4911.
-30-
Last updated: Thursday, 22-Apr-2010 16:06:44 Central Daylight Time