UW-RF Home > University Communications Home > This Month's News Releases
University Communications
OUTDOOR ART EXHIBIT HAD HUNDREDS OF PARTICIPANTS
By Kelli Hoff
UW-RF University Communications


NOV. 4, 2005--The University of Wisconsin-River Falls' art students and faculty un-installed their artwork from around the UW-RF campus following the 14 th annual outdoor art installation in mid-October.
Art Professor Peter Mak, the faculty coordinator for the event, said the number of participants for this exhibit totaled more than 400, since at least half of the pieces were collective efforts by entire classes.
Mak said the nature of the outdoor art installation is much more casual than a typical exhibit.
"It's not so rigid, like in a traditional gallery," says Mak. "So some of the artists wanted to incorporate that interactive element. They wanted the viewers to participate in the work."
Several of the pieces were interactive, and one even included a "living" exhibit with the artist on display. Another work encouraged viewers to "spin me," one let people rearrange a number of boxes any way they pleased, and another asked the viewer to draw Donald Duck. Those brave enough to put their drawing talent on display could use the supplied canvas.
Judging by the number of Donald Ducks scrawled across the canvas, the interactive element was a success.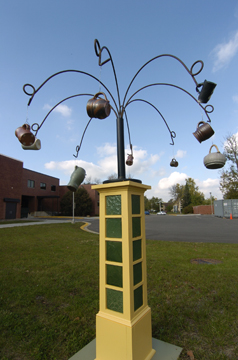 Viewers could also interact through voting for pieces they liked. New this year was a knot system. A piece of string was tied near each installation so that passers-by could make a knot if they enjoyed the piece. The most knots went to an installation by the Art 100 class where each student made a self-portrait. The portraits were placed one by one on the ground along the sidewalk.
"Each one of them had a very unique way of presenting his or her interpretation of the theme--themselves. A self-portrait with a twist, saying something using social icons or symbolism to say who they are," said Mak.
The art installation was on public display for three days and gave students and visitors to the campus the chance to see some of the talent coming out of UW-RF's Art department.
"It's a wonderful opportunity for us, the art department, the students and the faculty, to share our creative efforts and ideas with the campus. It's exciting for us and I think the public enjoys it," said Mak.
Photo captions:
Top, right:
Bottom, left:
-30-
Last updated: Thursday, 22-Apr-2010 16:06:44 Central Daylight Time