UW-RF Home > University Communications Home > This Month's News Releases
University Communications
ANGEL ALCANTAR NAMED REGIONAL MANAGER OF THE YEAR
By Jenna Campbell
UW-RF University Communications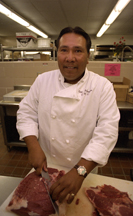 NOV. 4, 2005--Stir-fry pasta. Cherries Jubilee. Mojito Lime Chicken. Jamaican Plantains.
These are just some of the many entrees and desserts that have dazzled the tastebuds of those who dine at Rodli Commons on the campus of the University of Wisconsin-River Falls.
The chef who has become widely known through the St. Croix Valley--Chartwells Executive Chef Angel Alcantar--was recently honored by his employer for the excellence he brings to the campus dining experiences.
People from near and far are known to travel the distance to UW-RF for conferences and banquets to experience Alcantar's delicious creations.
Alcantar was selected from among of hundreds of salaried employees of Chartwells, an international food giant, as the central regional salaried associate of the year. Alcantar was nominated by the managers on the UW-RF campus. The award is given out to one hourly and one salaried employee.
"I can think of no one more deserving of our regional ABC (Above and Beyond the Call) Salaried Associate of the Year award than Chef Angel," said Chartwells Regional Marketing Director Stacy Shaw. "Not only does he have a vast culinary knowledge but he is reliable, works very hard, and is passionate not only about food but about the people he serves."
Alcantar takes personal satisfaction in making his dishes delicious and unique. "He has a special talent and has gained a reputation as an excellent chef," says Gerda Benedict, former director of University Food Services. "He takes personal pride in presenting his menu creations. Angel has always been a pleasure to work with and is very deserving of this special recognition."
Another key attribute that Alcantar distinguishes himself by is his ability to talk to people and to be a friend. "Everyone enjoys being in the food line when Chef Angel is serving because he knows just what to say to brighten someone's day," says Jennifer Conde, who manages Chartwells at UW-River Falls.
Alcantar has the ability to make people feel more than just another client. "If you need a special meal planned, he never fails to delight. If you especially like it, he may just name it after you and it will become part of the menu rotation," says Conde.
The UW-RF faculty and staff showed their support for Alcantar's nomination by sending many letters. Two words that they often used to describe Alcantar are: dedication and creativity. "UW-River Falls is fortunate to have Angel Alcantar as a member of our University community. He is a dedicated member of the food service team," says Benedict.
Many faculty and staff at UW-RF are enthusiastic about Alcantar's work and have positive comments on his tasty dishes. "It is such a treat to be a guest at a catered event and listen to Angel describe his creations," says Vice Chancellor Mary Halada, who oversees administration and finance. "He genuinely loves to invent new dishes--there's rarely a repeat when you give Angel the flexibility to do what he does best. He uses such unique combinations--even the names of his recipes sound good!"
For more than a decade, Alcantar has been preparing meals for the Kansas City Chiefs during their summer training camp at UW-RF. Over the years, Alcantar has come to understand the diets of the players and has developed the knack as to what foods to prepare along with proportions. Alcantar has been affectionately nicknamed, "Chefie" from many of the players. "For all the work they do both on and off the field, it gives me great satisfaction to give them a good meal," says Alcantar. "I use training camp to try out new sauces and herbs and spices. It gives me a chance to experiment with new dishes, which I can incorporate into banquet menus."
Says Halada, "I get the opportunity to witness Angel's interactions with players and coaches during the Chiefs training camp on a daily basis. He is very much in tune with their likes and dislikes--both individually and collectively, and he works hard to keep the training camp menu exciting."
Alcantar moved from his native Southwest to the Midwest 12 years ago. He worked in kitchens in Eau Claire before coming to River Falls, where eventually he found himself working for Chartwells.
"The staff and alumni here are unbelievable," says Alcantar. "It really means a lot to me that I was voted for by people I've worked with."
-30-
Last updated: Thursday, 22-Apr-2010 16:06:43 Central Daylight Time