UW-RF Home > University Communications Home > This Month's News Releases
University Communications
'ROCKY HORROR SHOW' CAPTURES VAMP AND CAMP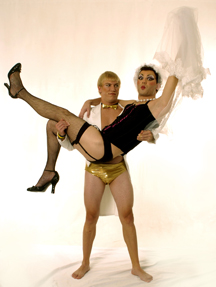 OCT. 21, 2005--A live band, audience participation and video segments from the cult-film "Rocky Horror Picture Show" as well as innovative costumes and daring choreography make up the University of Wisconsin-River Falls Theatre production of "The Rocky Horror Show."

The production is Oct. 27-29 and Nov. 2-5 in the Blanche Davis Theatre of the Kleinpell Fine Arts Building at 7:30 p.m. A special late-night production is at 10 p.m. Oct. 31, and costumes by audience members are encouraged.

"This staging of 'Rocky' is something special as it attempts to recapture the fun of the old 'B' horror movies of the 1950s and 1960s from which the original Rocky was born," says Director Jim Zimmerman. "The only thing you really need to bring to the show is your sense of humor … and arrive early enough to purchase an audience participation bag of goodies. This show is a party waiting to happen."

Zimmerman says he tried to make something unique out of the theatrical production by incorporating video segments from the cult classic, which are not normally a part of the stage version. "The cast dusts off the 30-year-old cult classic that has now crossed into its third generation of ardent fans to give it a newer rock feel with a fresh approach to the character with all the classic camp that has made 'Rocky Horror' the icon of cult films and musicals," says Zimmerman.

The story is an outrageous ensemble of characters including two kids from middle America confronted by the complications of morality in the 1970s and represented by the mad Dr. Frank N. Furter, a transvestite from the galaxy of Transylvania.

UW-RF student Mike McKay of River Falls returns to the stage as the mad doctor. UW-RF music students Greg Lund, of Woodville, Wis., and Barbara Bright, of Minneapolis, shine in the roles of "Brad" and "Janet," who stumble upon Frank when their car has a flat tire.

The production is directed by Zimmerman, a professor of speech communications and theatre arts, and music is directed by Mike Roy, a professor of music. Choreographer is Nicole Krominga from Minneapolis. Krominga, a professional performer and choreographer, was contracted specifically for this production and can be seen in the upcoming Chanhassen Dinner Theatre production of "West Side Story."

Costumer is Robin Murray, professor of speech communications and theatre arts and the technical director is Ken Stofferahn, professor of speech communications and theatre arts.

Rounding out the cast are University Theatre veteran performers Stephanie Briggs from Cottage Grove, Minn., as Magenta, Joe Aherns from Centuria, Wis., as Riff Raff, and Kristy Reid from Waconia, Minn., as Columbia. Other cast members include: Nick Moen from Colfax, Wis., as Rocky; Matt Briggs from Cottage Grove, Minn., as Eddie; Joe Burger from Menomonie, Wis., as Dr. Scott/phantom; Vince Baumel from Brooklyn, Wis., as a phantom; Mark Bergen from Shakopee, Minn., as a phantom; Angel Brelie from Mora, Minn., as a phantom; Johanna Brooks from Reedsburg, Wis. as a phantom; Keith Carl from New Richmond, Wis. as a phantom; James Davis from Baldwin, Wis. as a phantom; Chelsea Gartner from New Richmond, Wis. as a phantom/usherette; Carl Meeker from Sartell, Minn. as a phantom; and Alexis Tolin Delve from River Falls, Wis. as a phantom.

Tickets are on sale at the box office and one hour prior to performance. Adult tickets are $10 and students/senior citizens are $6.

For advance ticket sales, more information and University Theatre season tickets contact the UW-RF Box Office at 715-425-3114 or 1-800-228-5423. The production is designed for mature audiences only and parental discretion is strongly advised.

-30-
Last updated: Thursday, 22-Apr-2010 16:06:39 Central Daylight Time