UW-RF Home > University Communications Home > This Month's News Releases
University Communications
BOLIVIAN AMBASSADOR AND EDUCATORS VISIT CAMPUS
By Kelli Hoff
UW-RF University Communications
[more photos]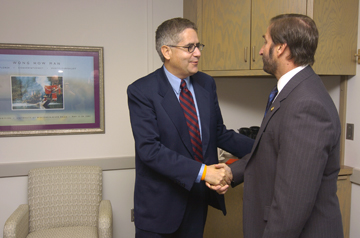 OCT. 21, 2005-- Members of the University of Wisconsin-River Falls community and representatives from Unidad Academia Campesina-Carmen Pampa (UAC–CP), a Bolivian University, met Tuesday to discuss a possible partnership.

Representing UAC–CP was Sister Damon Nolan, the school's director general. Bolivian Ambassador to the United States Jaime Aparicio Otero (Left, with UW-RF Chancellor Don Betz) also attended the meeting and spoke highly of the programs UAC–CP already has in place.

"This is really a successful program," he said. "We are hoping this would be not only good for Bolivia, but that it could be replicated in other countries."

The ambassador, visiting the Twin Cities on business, stopped by the UW-RF campus to lend his support to UAC-CP and the possible future the school may have with UW-RF.

Pat Hanson, UW-RF communications instructor in the speech and theatre department, led the meeting.
"We are actively moving toward a partnership between UAC-CP and UW-RF," she said.

A partnership could mean many things for both schools involved, including student teaching opportunities for education majors from UW-RF to teach in Bolivia or vice versa.

The group, composed of UW-RF faculty, Sister Damon Nolan along with the vice president, vice chair and executive director of the Carmen Pampa Fund, last met in April where they began to discuss "where to go from here" possibilities for both institutions. Sister Damon said her school's greatest need was for a program in English as a Second Language (ESL) and teachers. Another mentioned need was that of tourism.

Sister Damon has since received a US-AID grant, allowing her to build and also equip an ESL lab at UAC-CP and begun the school's fifth degree program—tourism.

UW-RF is being asked to help out in this venture.

Kelly Cain, professor of environmental sciences, runs the Wildlife Recreations and Nature Tourism Graduate Certificate program in the College of Agriculture, Food and Environmental Sciences at UW-RF. Students from various countries are enrolled in this program online, and several have limited experience with the English language.

An eco-tourism degree program at UAC-CP would benefit the surrounding community as well as students, said school officials. Guided nature tours would be offered to visitors to the area, helping the economy of the community.

Sister Damon said that eco-tourism is a way for members of the community to "take their natural knowledge and take advantage of it."

The eco-tourism program at UAC-CP should be ready for students within the next year, and English as a Second Language (ESL) will be a big part of it.

The money for the ESL lab is there, but UAC-CP is looking to UW-RF to help in choosing equipment, programs and materials for the lab.

English Department Chair Marshall Toman and TESOL Instructor Annette Klemp attended the meeting and discussed the ESL aspect of UAC-CP's new degree program. Kathy Matel of Century College in White Bear Lake, Minn., was also invited to the meeting because of her success in starting an ESL lab at Century.

Klemp said there seems to be three areas in which help is needed—practical English for the guided tours, academic English and a total preparation course which would help students wishing to attend graduate school in an English-speaking country, or take their career elsewhere.

"We'd like to include three languages in the language lab," Sister Damon said.

The attending members from the UW-RF English department, along with Matel, agree that the priorities for UAC-CP should be to teach English, but also to help students perfect their grammatical skills in their own language. Sister Damon said what she would like to do is "either develop a program" or use an existing program to help with these needs.

Matel suggested a "hybrid" teaching strategy—a virtual grammar lab and some instruction from teachers. This would be less expensive than traditional teaching methods.

Sister Damon said the "biggest challenge" was in the education department at UAC-CP, and that there is a need for teachers because currently many of the school's teachers have a very traditional teaching manner.

"The teachers that we have were prepared in the same method that we're trying to change," she said. Sister Damon continued, saying that typical classroom materials in rural Bolivia consist of "a notebook, a pencil and chalk." Students copy down what the instructor writes, take their notebooks home and copy the information into their "good" notebooks. She says that a more creative teaching style would benefit students in the education program.

"We want our kids to learn new ways of teaching," she said, "We will never have a lot of audio/visual aids, but we do have a beautiful world out there."

In teaching education students more creative ways of teaching, the hope is that the change will come full circle, also benefiting students in other programs at UAC-CP.

"We hope that our education students will become our teachers," said Sister Damon.

The possibilities don't end with the academic side of this partnership. It is an opportunity for students from both campuses to grow and to learn about other cultures.

"There's so much we can give and so much we can gain," said Hanson. "Faculty and students will both grow and prosper. We will come back richer and hopefully leave some of our gifts behind."

Sister Damon will visit the UW-RF campus again in April, when further plans regarding should be made regarding the partnership.

-30-

Last updated: Thursday, 22-Apr-2010 16:06:39 Central Daylight Time