UW-RF Home > University Communications Home > This Month's News Releases
University Communications
'ROCKY HORROR SHOW' PRESENTED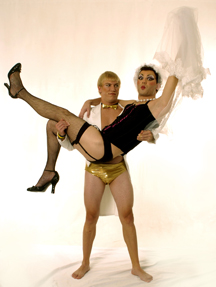 OCT. 14, 2005--The University of Wisconsin-River Falls University Theatre presents "The Rocky Horror Show" Oct. 27-29, 31, and Nov. 2-5 in the Blanche Davis Theatre of the Kleinpell Fine Arts Building at 7:30 p.m.
The theatrical version is based on the sci-fi, kitschy, goth-inspired rock-n-roll movie, "Rocky Horror Picture Show." The audience interaction that has made the movie a film icon is guaranteed, including cascading toilet paper and all the trimmings. On Halloween night guests are encouraged to dress in costume.
Tickets will be on sale at the box office two weeks before the production and one hour prior to performance. Adult tickets are $10 and students/senior citizens are $6. For more information and season ticket information contact the University Box Office at 715/425-3114 or 1-800-228-5423. The production is for mature audiences only.
-30-
Last updated: Thursday, 22-Apr-2010 16:06:38 Central Daylight Time