UW-RF Home > University Communications Home > This Month's News Releases
University Communications
DISTINGUISHED ALUMNUS TO SPEAK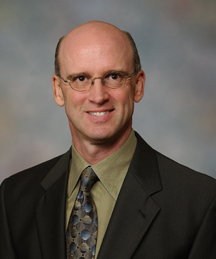 OCT. 14, 2005--An internationally respected leader in cancer research whose developments have helped influence new discoveries in the fight against cancer will speak at the University of Wisconsin-River Falls Distinguished Alumnus Day Oct. 26.
Steve Swensen, a 1978 UW-RF graduate, is a professor and head of radiology at the Mayo Medical Clinic in Rochester, Minn. Swensen's presentation, "Magnets, Molecules and the Moon," is at 10 a.m. in the Abbott Concert Hall in the Kleinpell Fine Arts Building. Incredible advancements are taking place in digital imaging, with significant implications for diagnosis and treatment of disease. Swensen will discuss the state of medical imaging today and forecast future developments (magnets to molecules). In addition, he will address medical quality and safety opportunities (the moon). The presentation is followed by a reception outside Gallery 101.
Swensen's research mainly focuses on lung cancer screening with Computed Tomography (CT), also known as CAT scanning, and radiologic analysis of lung nodules and masses. Swensen's research uses low-dose spiral CT screening to detect lung cancer at an earlier stage when it is more likely to be cured. He also is investigating the utility of biomarkers, including both genomic and proteonomic signatures of cancer.
Swensen comes from a long legacy of UW-RF alumni and emeriti. He is the son of Richard Swensen, dean emeritus of the College of Arts and Sciences (CAS), and brother of David Swensen, a 1975 UW-RF graduate and winner of the 1996 Distinguished Alumnus award and the 2005 College of Business and Economics Executive in Residence. His mother, Grace, who was the assistant pastor at Gethsemane Lutheran Church in Baldwin, is an alumna, as are all five of his siblings. Swensen's wife of 28 years, Lynn, is a UW-RF alumna as well. In addition his late uncle, Glen W. Hartman ('56), who received the distinguished alumnus award in 1983 and also was the head of radiology at the Mayo Clinic.
For the past five years, Swensen has served as the chair of Mayo's Department of Radiology, leading approximately 1,200 people, including 126 physicians and nine physicists. The department performs approximately 900,000 diagnostic and therapeutic exams per year and supplies more than $300 million worth of medical care in the department. The department has 20 magnetic resonance imaging (MRI) machines, 17 CT and 43 ultrasound scanners. Swensen has been at the Mayo Clinic since 1987.
In addition to administrative duties, Swensen is the principle investigator of two National Institutes of Health grants, both from the National Cancer Institute. These grants support nearly 40 percent of Swensen's time and are valued at more than $4 million devoted to lung cancer research.
Swensen serves as a member of the Board of Directors of a technology-based venture start-up company called TeraMEDICA, founded by a small team of Mayo Clinic leaders. The company plans to build the largest medical digital imaging archive available on the planet. Ultimately, the Mayo Clinic will become a digital and filmless enterprise with patient images available wherever and whenever. He has been the president of the Society of Thoracic Radiology, president of the Fleischner Society, president of the Mayo Thoracic Society, and currently is president of the American Association of Clinic Radiologists.
More information can be found at www.uwrf.edu/swensen or contact the Office of University Advancement at 1-877-259-6647.
-30-
Last updated: Thursday, 22-Apr-2010 16:06:38 Central Daylight Time