UW-RF Home > University Communications Home > This Month's News Releases
University Communications
CAREER SERVICES DIRECTOR TRAVELS TO ICELAND
By Jenna Campbell
UW-RF University Communications

OCT. 14, 2005--The quality of career services portfolios for students at UW-River Falls is enjoying an international reputation.
Career Services Director Carmen Croonquist visited Reykjavik, Iceland, for a week in September at the invitation of its national counseling association whose members sought t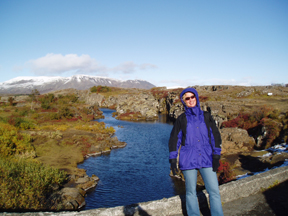 o borrow UW-RF's techniques in helping to get students placed in employment after they graduate.
Impressed by the quality of student portfolios at UW-RF, Jonina Kardal, the president of the Icelandic Counseling Association, contacted Croonquist in June. Kardal attended two of Croonquist's presentations--one a number of years ago at the Minnesota Careers Conference in St. Paul, and most recently in February in Madison, Wis., where Croonquist presented at the Wisconsin Careers Conference.
The topic fascinated Kardal, and she wanted to implement the concept in Iceland. Kardal then invited Croonquist to Iceland to offer a series of presentations for counselors and counselor education students.
" I almost fell off my chair when I read the e-mail from Jonina inviting me to Iceland," Croonquist recalled.
While Croonquist was in Iceland she presented to three different groups. The first audience was the Icelandic Counseling Association, which was broadcasted on TV and on the Internet. Another group included master's level counseling students at the University of Iceland. The third group included counselors who worked with "Upper Secondary" students, who ages 16 to 20. " I especially loved working with the master's-level counseling students," says Croonquist.
Croonquist informed each audience of the various applications of career portfolios, self-assessment techniques, portfolio creation, and different methods for effectively presenting portfolios to various audiences.
Croonquist also worked with two other colleagues. Ingveldur Sveinbjörnsdóttir, who is a counselor at a "Upper Secondary" school and teaches continuing education classes for Icelandic counselors, and Gudborg Vilhjalmsdottir, who is an assistant professor in school counseling at the University of Iceland.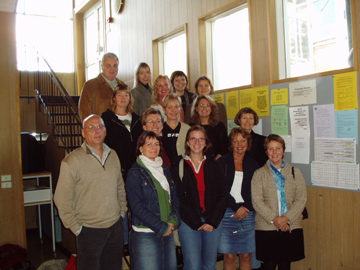 With Kardal they raised the grant money for Croonquist's trip and set the goals for each presentation. Croonquist reports that she has met their expectations based on the feedback she has received verbally and by an e-mail that she received from her Icelandic colleagues.
"Inga indicated that my presentations were a success by in two ways: one was the interaction from the counselor students during her presentation, and the other was that every student shook my hand after the presentation," says Croonquist.
The e-mail sent by Vilhjalmsdottir expressed how Croonquist's presentation is having a lasting effect on her students. "One of my students this morning was referring to his career portfolio and I thought: 'Yes, something is changing!' It is so important for us here in Iceland who are still working as pioneers installing a new service in our schools and employment centers to have visitors like you who really teach us something new and valuable, that we in turn can use for the benefit of our clients."
Croonquist said she is pleased with the outcome of her trip. "It was a once-in-a-lifetime experience for me. All of my memories of the trip are positive ones. I felt fortunate to have had the opportunity to share my knowledge of career portfolios with Icelandic counselors and students," said Croonquist.
-30-
Last updated: Thursday, 22-Apr-2010 16:06:38 Central Daylight Time