UW-RF Home > University Communications Home > This Month's News Releases
University Communications
RETIRED ADMINISTRATOR HONORED WITH PLAQUE
By Kelli Hoff
UW-RF University Communications

OCT. 14, 2005--A plaque destined to be hung in the new student center waits patiently in a North Hall office for its new home to be completed. That plaque honors Bob Sievert, an alumnus and long-time University of Wisconsin-River Falls administrator, who was vital in planning for the hub of student life on campus.
For the past 31 years, Sievert has served the university in various capacities and retired as director of student life operations.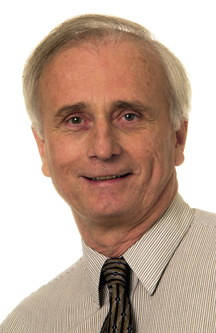 "Bob was instrumental in the vision for that building," said Mary Halada, vice chancellor for administration and finance. "He was one of those who really pushed us to think bigger and better what we could do."
While the new student center will be the heart of the UW-RF campus, the Fireplace Lounge will be the heart of the new student center. Halada expects it's where friends will meet, people will study or settle in with a cup of coffee just to relax.
"We thought that as the focus of this building that it would be an honor to name that area in Bob's name," said Halada.
Sievert's initial reaction to the Fireplace Lounge honoring him was one of shock.
"It's a highlight of my career. I'm honored and extremely appreciative," he said.
It seems fitting to name a place so fully geared toward the students at UW-RF after someone who was so involved with students during his time here.
In 1970, Sievert returned to UW-RF after a four-year air force tour in Vietnam. He worked as a resident assistant while he finishing his bachelor's degree. In 1972, Sievert was director of May Hall, and in 1974 he became director of student center facilities. He also earned an M.S.E. from UW-RF in 1988.
As the director of student center facilities, Sievert oversaw budget and operations for the residence halls, food services, Knowles Physical Education and Recreation Building, Hunt Arena and also the Hagestad Student Center. He has also served as Interim Dean of Students.
"He's got his mark on many things around here," Halada said.
Sievert's made his mark most recently as director of student life operations, where he oversaw the residence halls, the Knowles Building, Hunt Arena and also the student center. In 2002, Sievert received the Chancellor's Award for Excellence, an award given to a non-instructional staff member who has made an outstanding contribution to the university.
In addition to the Fireplace Lounge, an annual award will be named after Sievert as well. The award will be given to one student each year, to someone who goes above and beyond, exemplifying what good customer service is.
"It makes a better experience for everyone," said Sievert about customer service.
During Sievert's time at UW-RF, he worked with students and employees exploring how the campus might "provide a better and more meaningful experience for people." He looked at the hours and prices in the student center, and also how employees react with customers and the student body.
Good customer service can range from an employee pointing someone in the right direction to helping a student change their meal plan or add points to their student I.D.
Students and staff will make their nominations for the award, which will be awarded for the first time during spring 2006.
Sievert's retirement from UW-RF has led to greener pastures. He is the executive pastor at Faith Community Church in New Richmond, where he lives.
"It's kind of a shift for me," he said. "I've been volunteering for Faith Community, but now I can give more effort."
Sievert's time and effort at UW-RF will not be forgotten.
"I think the world of him. He's done great things for this institution," said Halada. "He's been a great mentor. Not only to many staff members but to a lot of students,"
And students can remember Sievert each time they meet up with friends at the Fireplace Lounge in the new student center, at the heart of the UW-RF campus.
-30-
Last updated: Thursday, 22-Apr-2010 16:06:37 Central Daylight Time