UW-RF Home > University Communications Home > This Month's News Releases
University Communications
ALUMNA RECEIVES WAL-MART TEACHING AWARD
By Lisa Stratton
UW-RF University Communications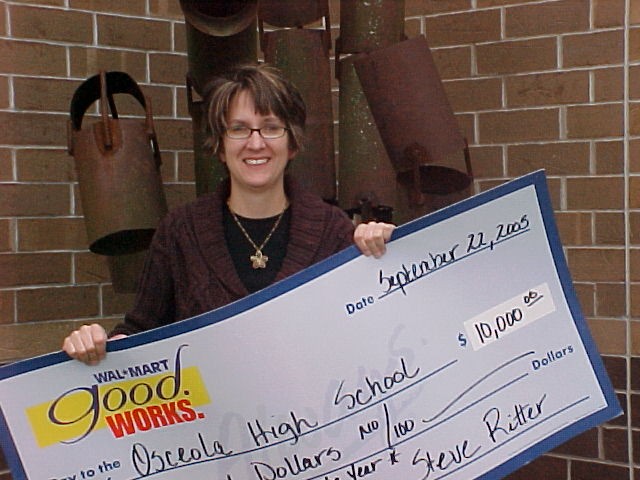 OCT. 14, 2005--Peg Medcraft, a 1989 graduate of the University of Wisconsin-River Falls and an art teacher at Osceola (Wis.) High School, has received the Wal-Mart State Teacher of the Year award for Wisconsin. Medcraft was nominated by her students and received $10,000 for her school.
"I was so stunned I couldn't even walk," says Medcraft.
The award was announced at a September pepfest at Medcraft's school. Judy Jax, chairperson of the Wisconsin selection committee and member of Phi Delta Kappa International, presented Medcraft with the award.
"The students were equally as excited as I was," says Medcraft. "I've received all sorts of goofy suggestions of what we should do with the money, like buying Etch-A-Sketches and Sharpie markers."
Planned use of the award money includes purchasing a pug mill, which is a clay-grinding machine, for Osceola High School. Medcraft chose to purchase this because of her students' participation in the Empty Bowls Project. For this project, her students create pottery bowls, and then in conjunction with the Spanish department, serve a meal to the community. The event raises money for the local food shelf and for Heifer International, as well as creating awareness about world hunger.
Medcraft's students also participate in the Memory Project, creating portraits of disadvantaged children around the world whose families have no access to a camera.
"I want my students to learn that they can make a difference in someone's world," says Medcraft. "I want them to try to reach out to other people."
She also advises her school's chapter of Future Educators of America.
"It's important for teachers to love what they're doing, and this is my chance to share how positive learning is with kids," says Medcraft.
Kurt Wild, retired UW-RF art professor, remembers Medcraft as a spirited, hardworking student with a good sense of humor.
"Peg had great enthusiasm for clay, and no doubt carried that on into her work," says Wild. "It's wonderful to me that I've had a number of former students that have gone on to teaching, especially at the elementary or high school, because the public schools are left in the dust - prestige is usually at the college level."
Lynn Jermal, Medcraft's advisor during her college days and UW-RF art faculty member, also has fond memories of her.
"She was really easy going and very bright and funny. She had a real interest in what she was doing," says Jermal.
Jermal states that Medcraft has been a guest speaker to UW-RF art students numerous times and has worked with UW-RF art students by mentoring them. She also says that many of Medcraft's high school students have gone on to be UW-RF art students themselves.
"Peg has inspired them tremendously - they can't stop talking about her," says Jermal. "I know she's a good teacher because her students express it. She's a great model for future teachers."
As to Medcraft's award, Jermal is not surprised at all. "We're very proud of her," says Jermal.
Medcraft credits UW-RF with a great deal of her passion for art and teaching. "I love art, and I love teaching. I think UW-RF's education courses, passionate educators, and the quality art program helped and encouraged me along the way. When I got out of UW-RF, I wanted to teach so bad that I just couldn't stand it. I love teaching," says Medcraft.
Medcraft first won the award on the local level, and received $1,000 for her school, a $50 gift card to Wal-Mart to buy classroom supplies, and an honorary greeters vest. She then applied at the state level and was selected from among 85 Wisconsin teachers. Along with the $10,000, she received a one-year membership to Phi Delta Kappa and was automatically entered in the national contest.
The national recipient will be announced on Nov. 23. The Wal-Mart National Teacher Award winner will receive an additional $25,000 dollars for his or her school.
-30-
Last updated: Thursday, 22-Apr-2010 16:06:37 Central Daylight Time