UW-RF Home > University Communications Home > This Month's News Releases
University Communications
INTERNATIONAL WORKSHOP HIGHLIGHTS OPPORTUNITIES

By Justine Benzen
UW-RF News Bureau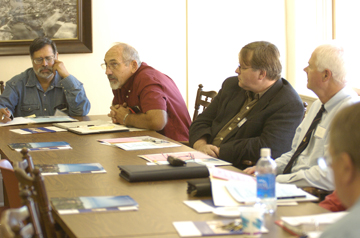 SEPT. 30, 2005--The UW-River Falls River Falls Association for International Development held its third annual workshop in September to explore international educational exchanges and partnerships here and abroad.
The workshop brought together UW-RF faculty and alumni interested international development to share common interests, consider research collaborations, discuss international components to UW-RF curriculum, and assess grants available to add an international component in the classroom and beyond.
"Grant opportunities have been used to improve curriculum, and fund research and international projects," said economics professor Jackie Brux.
Various international development grants have been used to purchase videos and other educational material focusing on international issues, which enhance learning as part of curriculum improvement.
Grants can also fund study tours in developing countries. The most recent visit was to Mexico where students spent 16 days working with communities and experiencing Mexican culture. Edward Robins, professor of sociology, anthropology and criminal justice, is planning a trip to Tanzania, and a study tour to Bolivia is being organized.
The goal of such tours is to increase students' appreciation of the importance of the conservation and diversity. The tours focus on global geography, inequality, population, culture, environmental issues, economics, food, interdependence, political systems and gender roles in developing nations.
"The workshop educated faculty and alumni with the awareness of the developing world," said director of international programs Brent Greene. "By doing this, faculty can take what they learn into their classroom and provide students with the information."
Brux originally formed the workshop as an informal exchange, and sustained enthusiasm led to the development of the campus organization, Association for International Development.
"Our hope is to continue to expand to include events such as a regional conference and a center for international development," said Brux.
The center could be a clearinghouse to share international development endeavors and to expand international development research and study underdeveloped and developed countries.
"My vision of a center for international development at UW-RF stems from a desire to make us more visible and able to attract more grant awards," said Brux. "This will help sustain us and permit expanded research and programs."
Finding support, opportunities for research and travel, and plans for the future were some of the many items discussed at the workshop.
Workshop speakers included Marshall Toman, professor or English, who spoke about the "Traveling Classrooms" that are now part of the new international studies interdisciplinary major. Speech instructor Pat Hanson talked about her trip to China in August and the internship opportunities for students. Teri Crotty, professor of teacher education, spoke about the Bolivia project and discussed the arrival of a guest speaker from South Africa. Tony Jilek, professor of animal and food science, outlined his sabbatical in Mexico, which developed student internship exchange. Brux discussed improving the material taught in international courses. Pascal Ngoboka, professor of economics, described his summer tour to Uganda and the possibility of opening these tours for the UW System.
For more information UW-RF AID contact Brux at jacqueline.m.brux@uwrf.edu .
-30-
Last updated: Thursday, 22-Apr-2010 16:06:35 Central Daylight Time