UW-RF Home > University Communications Home > This Month's News Releases
University Communications
CHINA EXPLORER OFFERS OPPORTUNITIES FOR UW-RF STUDENTS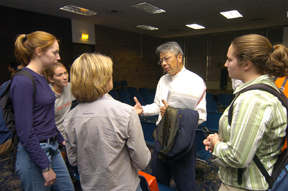 By Justine Benzen
UW-RF University Communications
OCT. 7, 2005-- Wong How Man, an explorer with international acclaim for his work in conservation and preservation and the 2002 UW-River Falls Distinguished Alumnus, outlined international study opportunities for UW-RF students and faculty during a recent visit to campus.
This summer, six UW-RF faculty traveled with Wong, who is the founder of the China Exploration and Research Society, to the northwest corner of the Yunnan Province in China. Their mission was to create a partnership with CERS to involve students in international development projects and establish internships for biology, food science, eco-tourism, art, marketing, and other students.
"This is a rare opportunity for the university and the community," said Chancellor Don Betz. "Wong How Man has nurtured our campus with the vision of China research and exploration."
UW-RF faculty making the China trip were Brent Greene, director of international programs; Kelly Cain, professor of environmental science and management; Pat Hanson, speech communication and theater arts instructor; Lynn Jermal, professor of art; Brad Mogen, professor of biology; and Tracy O'Connell, professor of marketing communications and journalism.
"UW-RF has, in How Man, an incredible opportunity to work with a very distinguished and internationally acclaimed individual," said Greene. "The possibilities for student involvement are virtually boundless and will expand as we continue to develop our rich and growing relationship with How Man and the China Exploration and Research Society. UW-RF students have an opportunity that virtually no other university students in the nation have; to work with the very well developed infrastructure and resources of CERS."
The Zhongdian Center, headquarters of the CERS, is the main center where students could live. The center wo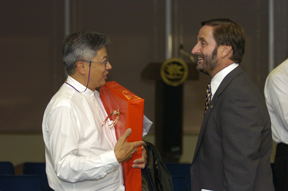 uld house, catalog and store collections as well as have tourism information and language tutoring. There are many nearby sites where students could work and experience Chinese culture, such as the Gongbing village, where students might work to develop a bed-and-breakfast inn for travelers.
The Yak cheese cottage industry is an area that would benefit students interested in food science. This fledgling industry is in need of help to preserve milk and cheese in a sanitary and healthy way. The site could also incorporate producing, packaging, marketing and promoting other products.
The Golden Monkey Lisu Hill Tribe is another site where students could research and preserve the area for golden monkeys, and the Tibetan Mastiff site is where pre-vet majors/minors might work with dogs to study DNA analysis.
About Wong & CERS
Wong came to UW-RF as a student in 1969. Having been accepted to three other universities, Wong chose River Falls because the name conjured up images of a wonderful waterfall. Disappointed with the falls, Wong found River Falls a rewarding experience and graduated with majors in journalism and art.
Following college, Wong returned to China as a free-lance photographer and journalist. His work has been featured in National Geographic magazine and other publications.
During his assignments, Wong realized that areas of China that were not yet been modernized were disappearing. "Everywhere I went I encountered people and customs that I knew were going to vanish almost as soon as I'd photographed them," said Wong in an interview with Time magazine. "I realized that to be an explorer in today's world, you can't escape becoming a conservationist."
In 1986, Wong founded CERS, a nonprofit organization dedicated to exploring the remote regions of China. The organization also conducts multidisciplinary research, implements nature and culture conservation projects, and distributes information through educational and other channels.
CERS is involved with many projects, including the protection of rare black-neck cranes, antelope, wild yak and wild ass of the Tibetan plateau, conserving Palpung and Baiya monasteries and preserving a Moso village at Luguhu. The village is one of China's few remaining Moso communities.
UW-RF is lucky to have a distinguished researcher among its alumni and the opportunities this international partnership can present for faculty and staff, Greene said.
"UW-RF doors are opening opportunities once again."
-30-
Last updated: Thursday, 22-Apr-2010 16:06:35 Central Daylight Time