UW-RF Home > University Communications Home > This Month's News Releases
University Communications
UW-RF WELCOMES NEW DIRECTOR OF STUDENT SERVICES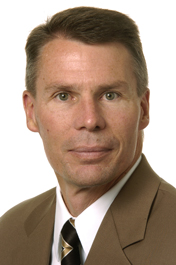 By Jenna Campbell
UW-RF University Communications
OCT. 7, 2005--Gregg Heinselman, the new executive director of student services at the University of Wisconsin-River Falls, has his hands full with many projects this fall designed to enhance student and community life.
With the new Dean of Student Development and Campus Diversity Blake Fry, Heinselman has been heading up the Hurricane Katrina relief efforts. Another big endeavor is leading the development of the new student center under construction, working with the renovation of the Knowles Physical Education and Recreation Building, and strengthening the living community for the new South Fork Suites.
Heinselman is well prepared for the challenge of the new student center at UW-RF, as he has been involved in launching three student centers. He is working with a team of directors on defining the mission, purpose and core values of the new student center and how it should compliment and support the mission of UW-RF. "We will draft a guiding document to move forward in the future and how we will support student living," said Heinselman.
Student affairs is very familiar territory for Heinselman, who has almost 20 years of experience in the field. He was as the director of student life at Duke University in Durham, N.C., for the past two years before coming to UW-RF. Heinselman has also worked at UW-Platteville for nine years as the director of campus life and university centers. Both are similar in size to UW-RF.
Heinselman also worked at Pittsburg State University in Kansas, the University of Wyoming, California State University at Long Beach and Northern Arizona University.
Another big project on Heinselman's plate is the South Fork Suites, designed to be a living-learning community. He is helping the residence hall community define themselves and to embrace their role on campus. "South Fork is a very different type of living environment compared to our other resident halls on campus," says Heinselman.
Renovation of the Knowles Physical Education and Recreation Building, a facility used by the campus and community, is going well, said Heinselman. The facility is expected to be reopend Nov. 1.
"It's a beautiful facility," said Heinselman. "I like to think we're starting on the inside where you don't expect it. The floors have been stripped, and the track is being laid. The ice is ready, and the hockey team is practicing."
The new Student Center is scheduled to open January 2007. Coming to the project midstream, Heinselman is trying to familiarize himself with the design of the building, what services will be located in the facility, and how to deliver and provide those services to the campus community.
Heinselman believes that the new Student Center will change the way people act socially on campus. "This facility is going to be used first and foremost as a recruitment and retention tool to the institution; I believe that it's going to have a sweeping impact on the community dynamics here at UW-RF," says Heinselman.
Heinselman has a B.S. in business administration from Northern Arizona University. After graduation from NAU, Heinselman was highly involved in opening a new student center as manager the facility. His M.S. degree is in education administration from Pittsburg State University. He is originally from Pocatello, Idaho, and has lived in Kansas City Dallas, and San Diego. He and his wife, Kari, who is a kindergarten teacher at Westside Elementary, have four children.
"All four of my kids were volunteers at the Chiefs camp this summer," said Heinselman. "I figure it would be a good way for them to get to know and serve the community and campus as a volunteer."
Heinselman says he feels that attending campus events is the great way for the community to connect with students, faculty and staff and vice-versa. For example, one well-attended event is the annual Wyman Series, which feature a diverse line-up from motivational speakers to gospel choirs and popular jazz artists such as George Winston.
"We are looking for ways and opportunities to make connections with the community," says Heinselman. "I would like to hope the community feels welcomed and well engaged in campus. I think it is important to get out there to the community what our role is in providing those cultural and educational opportunities."
-30-
Last updated: Thursday, 22-Apr-2010 16:06:35 Central Daylight Time