UW-RF Home > University Communications Home > This Month's News Releases
University Communications
UW-RF WELCOMES NEW DEAN OF STUDENT DEVELOPMENT & CAMPUS DIVERSITY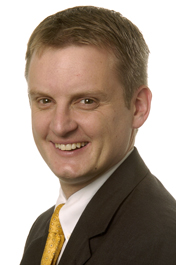 By Jenna Campbell
UW-RF University Communications
OCT. 7, 2005--In his first few weeks on the UW-River Falls campus, new Dean of Student Development and Campus Diversity Blake Fry has many top priorities and exudes an energetic presence. With new Executive Director of Student Services Gregg Heinselman, Fry is heading up Hurricane Katrina relief efforts. He's working on a new strategic plan for student development, revising the campus emergency response plan, and implementing Plan 2008, a UW System plan for enhancing diversity on campus.
Fry comes to UW-RF well versed in the nuances of student life and well prepared from his previous professional positions. He was the director of campus life since 2001 at the University of Central Oklahoma in Edmond. Fry also worked at Avila University in Kansas City, Mo., where he was director of student activities. While a graduate student, Fry worked in the Office of Student Life at the University of Missouri-Kansas City. In addition, he is a former admissions representative for Wichita State University.
One of his first endeavors on campus has been to launch a program, Student Personnel Development Series, designed for professional development of staff and students. The first topic covered in September was bout theories of racial and sexual identity. Fry outlined what causes students to have diverse feelings, thoughts and backgrounds. "It's just not a coincidence, it's just not luck, but there are some theories and foundations as to what we do, and I want people to be aware of them," said Fry.
Presented on the third Thursday of each month, the Student Personnel Development Series will feature upcoming topics such as a presentation on the new Student Center's design and functionality, presented by Heinselman, as well as other topics related to student life, campus diversity and student development.
Fry had the distinction of working with new UW-RF Chancellor Don Betz while at the University of Central Oklahoma. They worked on numerous projects including: civic engagement projects, the American Democracy Program, service-learning initiatives and a Model United Nations Class.
Fry said his past collegiate experiences have given him insight in to student life. "I had two different college careers," said Fry. "At one I spent most of that time babysitting people ... some roommates had drug problems. It was quite a challenge to make sure that my roommates didn't hurt themselves. I think this is what led me to the students affairs field. When I became engaged in student life ... I really made connections with people who became my mentors in the profession.
Because the first year at college can be the hardest, Fry has some advice for freshman on how to achieve success in upcoming year. "Time management is very important," says Fry. "Students are constantly bombarded with new opportunities, both constructive and destructive. If a student is able to maintain a fairly regular schedule that allows for an appropriate balance between academic and social activities, they are likely to have a successful college experience."
Fry has a B.S. from Wichita University, and a M.A. in higher education administration from the University of Missouri, and M.B.A from Avila University. He is in his doctoral dissertation phase of his Ph.D. at Oklahoma State University.
Fry, his wife Michele, who is a speech pathologist, and their two-year-old daughter, Abby, live in River Falls. After some 21 moves--all to large cities--Fry said he was nervous at first to live in a small city, but says that transition has been great and he has thoroughly enjoying the community.
Through Fry's efforts with Hurricane Katrina relief he feels as though he has made some connection with the community, but he feels that it is still a work in progress. "In terms of hearing from alumni and making connections with the American Red Cross, yes. Beyond that I think those connections in River Falls are still being developed," says Fry.
-30-
Last updated: Thursday, 22-Apr-2010 16:06:34 Central Daylight Time