UW-RF Home > University Communications Home > This Month's News Releases
University Communications
FALCON FRONTIER DAYS RODEO A GREAT SUCCESS

By Jenna Wegner
UW-RF News Bureau [photos]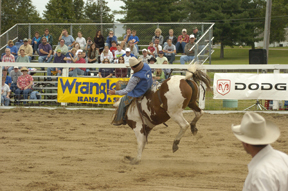 SEPT. 30, 2005--It's boots and chaps. It's cowboy hats. It's the ropes and the reins. And the joy and the pain. It's the broncs and the blood. It's the steers and the mud. And they call the thing rodeo.
That's exactly what Garth Brooks sang and what University of Wisconsin-River Falls Rodeo fans witnessed September 16 ­ 17 at Lab Farm No. 1 on campus. As fans packed the bleachers and children eagerly peered through the panel fences waiting for the next event, the 41st Annual Falcon Frontier Days Rodeo was deemed a success by participants and fans.
More than 3,000 fans watched as cowboys held on with all their might during bareback, bronc and bull riding, and as cowgirls weaved through barrels and wrestled down goats. Allie Burn, of Delano, Minn., who competes for South Dakota State University, has been competing in rodeos all of her life. "I like competing under the lights, she said of the evening rodeo. It's the first rodeo of the year. Everything is just so exciting."
The success of the rodeo wouldn't have been possible without the dedicated members of the Rodeo Club and other volunteers. "This is a very good rodeo for a college, said Brandon Balzer, a UW-RF senior majoring in dairy science from Owatonna, Minn. "I've been to a few rodeos before, and this is pretty impressive."
Falcon Frontier Days Rodeo Results:
In Men's Team competition, Dickinson State University took first place with 765 team points. Following them in second place was South Dakota State University with 610 points. In third place was National American University with 550 team points.
In the Women's Team competition, National American University placed first overall with 310 points. In second, with 265 team points, was South Dakota State University. Placing third was Iowa Central Community College with 180 team points.
Rollie Wilson blew the competition away in the Men's All-around, taking first place with 440 points. Following in second place was Paul Painter of Black Hills State University. Taking third place, with 170 points, was Michael McPherson.
Jacquelyn Murray of South Dakota State University placed first in the Women's All-around with 265 points. Following her in second place was Cory Shipman of National American University with 150 points.
In the men's competition, Rollie Wilson of Dickenson State placed first in the Saddle Bronc Riding. Earning second place was Chance Harman of Nebraska College of Technical Agriculture. Following in third place was Tatum Longbrake of Dickinson State.
In Bareback Riding, Joseph Gunderson, South Dakota State University, placed first. Rollie Wilson, and Denny Phipps, also from Dickinson State, placed second and third, respectively.
Ryan Schumacher, Iowa Central Community College, dominated the Bull Riding competition on his way to a first place finish. Jamie Leddy, SDSU, placed second and Chris Junk, IA CCC, place third.
In Tie Down Roping, Tyler Thiel of National American University placed first. Following him in second was Josh Foutch, IA CCC, and placing third was Clint Gorrell of Dickinson State.
Rollie Wilson again placed first in the Steer Wrestling Competition. Paul Pinter of Black Hills State placed second followed by Cody Smith, National American University, in third place.
The duo of Dillion Kjerstad, SDSU, and Paul Painter, Black Hills, placed first in the Team Roping competition. Taking second place was the team of Rex Treeby and Chase Lingemann, both of SDSU.
In the women's events, Adriane Kocie of the University of Wisconsin-Platteville earned first place in the Barrel Racing competition. Cory Shipman and Danielle Rausch, both of National American University, placed second and third, respectively.
In Breakaway Roping, Jacquelyn Murray of SDSU placed first. Following her in second place was Kelli Jo Schumacher, SDSU, and Erica Cameron, Dickinson State, earned third place.
Jessica Painter of National American University captured first place in the Goat Tying competition. Jacquelyn Murray, SDSU, placed second, followed by McKenzie Roseland, IA CCC, placing third.
Established in 1964 by the late Gerhard (Doc) Bohn, the University Rodeo was one of the first student rodeos east of the Mississippi. The rodeo team competes in about 10 rodeos across the country per year, and the rodeo is part of the National Intercollegiate Rodeo Association and one of 14 collegiate rodeos competing in the Great Plains region. The NIRA has more than 3,500 student members and 137 member schools and universities, competing in more than 100 rodeos a year.
-30-
Last updated: Thursday, 22-Apr-2010 16:06:33 Central Daylight Time