UW-RF Home > University Communications Home > This Month's News Releases
University Communications
STUDENT RECEIVES AWARD FROM U.S. JUSTICE DEPT.

By Justine Benzen
UW-RF News Bureau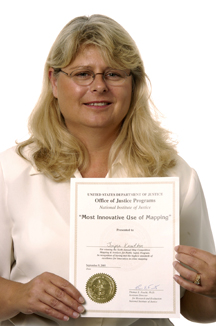 SEPT. 30, 2005--University of Wisconsin-River Falls student Joyce Knowlton of Hudson received a prestigious award from the U.S. Department of Justice in September for a mapping project documenting crime in the Minnesota Correctional Facility in Stillwater, Minn.
According to Knowlton, cells are six by nine feet and house two offenders. This has increased the number of conflict incidences within the facility. By mapping out where the prison and rule violations occur, others can see what is documented on paper. Patterns may not be apparent until displayed as a map.
"There have been no other prison systems that have mapped out their facilities," said Knowlton.
Her project generated a lot of interest from state and national agencies, especially at two recent crime-mapping conferences. Her work for the award was reviewed at the national level with international submissions.
Knowlton sparked interest in the project because she currently works in the correction facility as an investigator. "Overall, I have learned what I need to know here, and now I am applying it to the real world," said Knowlton.
The project was part of a three-credit independent study project with Charles Rader, professor and chair of the department of geography and mapping sciences. In order to complete the project Knowlton spent several hundred hours creating a database that would work to accurately map out the facility. Rader spent about 30 to 40 hours this summer working with Knowlton on the project. "Her project is a great innovative use of the geographic information system," Rader said.
"I couldn't have done everything without the help of Dr. Rader and support from the university," said Knowlton.
-30-
Last updated: Thursday, 22-Apr-2010 16:06:33 Central Daylight Time