UW-RF Home > University Communications Home > This Month's News Releases
University Communications
HORT PROF NAMED FIRST INNOVATION SCHOLAR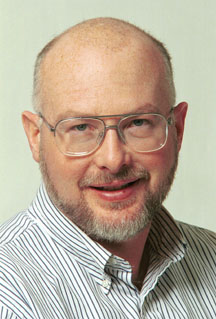 SEPT. 30, 2005--Brian R. Smith, a horticulture professor in the plant and earth science department at UW-River Falls, was named the first-ever WiSys Technology Foundation¹s Innovation Scholar for 2005.
Smith received the award for the development of a plum cultivar that stands up to Wisconsin's harsh winters. He created the new cultivar by crossing a plum variety adapted to Wisconsin's frigid winters with a Japanese dessert plum. His plum has all the characteristics to produce a fruit in the Midwest that hasn't been grown here before.
The WiSys Innovation Scholar Award program is an initiative to recognize and encourage innovation among UW System faculty, staff and students. Selection of the award is based on the innovative concept, broad use, value and industrial application of an invention.
Smith's Lydecker plum variety, named after the late UW-River Falls Chancellor, Ann M. Lydecker, yields fruit as large and tasty as any California-grown plum. More importantly, it also withstands subzero temperatures and is highly productive, producing completely round, purple toblack plums.
The WiSys Innovation Scholar program is supported by Quarles & Brady, LLP, a national legal firm with offices in Madison and Milwaukee as well as other companies. Smith¹s award was featured in the WiSys Technology Foundation Inc. newsletter as well as the Milwaukee Journal Sentinel in May.
-30-
Last updated: Thursday, 22-Apr-2010 16:06:33 Central Daylight Time