UW-RF Home > University Communications Home > This Month's News Releases
University Communications
DANCE COMPANY TO PERFORM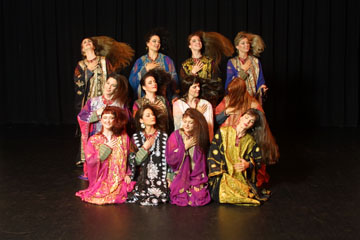 SEPT. 30, 2005--The Jawaahir Dance Company will be perform on Tuesday, Oct. 18 at 8 p.m. in the Abbott Concert Hall of the Kleinpell Fine Arts Building at the University of Wisconsin-River Falls.
The Jawaahir Dance Company captures Middle Eastern dance using rhythms of rural Egypt and the Ottoman Empire. The pieces are devoted to the roots of the Middle Eastern dance, but are presented in a way that is modern. The founder and artistic director of the Jawaahir Dance Company is Cassandra Shore. Shore has been studying the Egyptian Raks Sharqui and Middle Eastern folkloric dance since 1974. In 1991, Shore was the recipient of the Minnesota Dance Alliance/McKnight Foundation Resident Choreographer'sAwards. Shore also was awarded the MDA/Jerome Foundation Sponsor Pool and dancer Pool Awards.
The UW-RF Performing Arts Committee and the Diversity Awareness committee, both part of the Leadership Development and Programming Board, sponsor the free Wyman Series concert. Funding for the series is provided by student fees, which are allocated to various student organizations and committees.
Cost is free for students, $3 for age 8 and under and $5 for the public. For more information contact the UW-RF student leadership center at 715/425/4911; more information about the artist is available at http://www.jawaahir.org .
-30-
Last updated: Thursday, 22-Apr-2010 16:06:32 Central Daylight Time